My love for Chilaquiles came from a familiar place for me: competitiveness.
I was the manager of a 9-1-1 center at the time, and we were celebrating National Public Safety Telecommunicators Week. I was joined by some Fire Chiefs and other managers from around the Fire Department, and we made breakfast for the dispatchers all five days that week. We were turning out made-to-order eggs, pancakes, bacon, sausage, omelets, and all kinds of accompaniments. By the end of the week, we had become like a well-oiled machine, and really good food was flying out of the kitchen.
Then, the curveball: one of my compatriots showed up with a casserole dish full of what I thought were enchiladas. Upon closer inspection, all I saw was chips covered in red sauce. I was baffled. He cranked up the oven, covered the chip mixture with a good amount of cheese, then carefully cracked 4 eggs over the top, one in each corner. I was so captivated by this preparation that my pancake station sat unattended while I stood in the corner staring down the magic that was happening on the other side of the kitchen.
I had to know what was going on. I'd like to tell you how professionally and eloquently I inquired about this delightful creation. Realistically, I was slightly hunched forward, eyes fixed, mouth agape, and all that came out was, "What that???" with drool dripping out the corner of my mouth.
Soon, I discovered two things:
They were Chilaquiles, and they were amazing. Runny egg yolk dripping over melted cheese, crispy chips, and a slightly spicy sauce was the perfect bite. And,
I knew I had to make them, and make them better than this.
And that's completely no offense to my co-worker or his Chilaquiles – I just have this innate desire to be the best at things that interest me, and to get to that level quickly. So the next several weekends were spent eating various versions of Chilaquiles, and many weekends since then. Today, I think all the experimentation was worthwhile.
Like most recipes on this site, I'm going to tell you that this dish is easy to make. It's really just chips, salsa, and cheese. I mean, seriously, you're basically making soggy nachos and putting an egg on top. I know that makes these sound really appealing, but there's a reason they're regarded as one of the best hangover cures around. They're rich, spicy, salty, and oh-so comforting. BTW, you don't need to be hungover to enjoy these, but if you are, they're some kinda special.
Also, before I go any further, please click here to learn more about National Public Safety Telecommunicators Week, and take a moment to recognize the work that these fine people do. It's a job most people couldn't handle, and it receives very little attention. If you know a dispatcher, tell them thanks. 
Let's start.
First, you need some tortillas. If you want to make your own, I think it seriously enhances this dish. I'll teach you how if you click here. If you don't want to make your own, just grab some tortillas from your pantry. We want these to stay somewhat crisp even when drenched in the sauce, so cut them into pieces (I prefer triangles, but cut them any size and shape you wish) and let them sit out for a bit. If you can leave them out for an hour or two, that's ideal.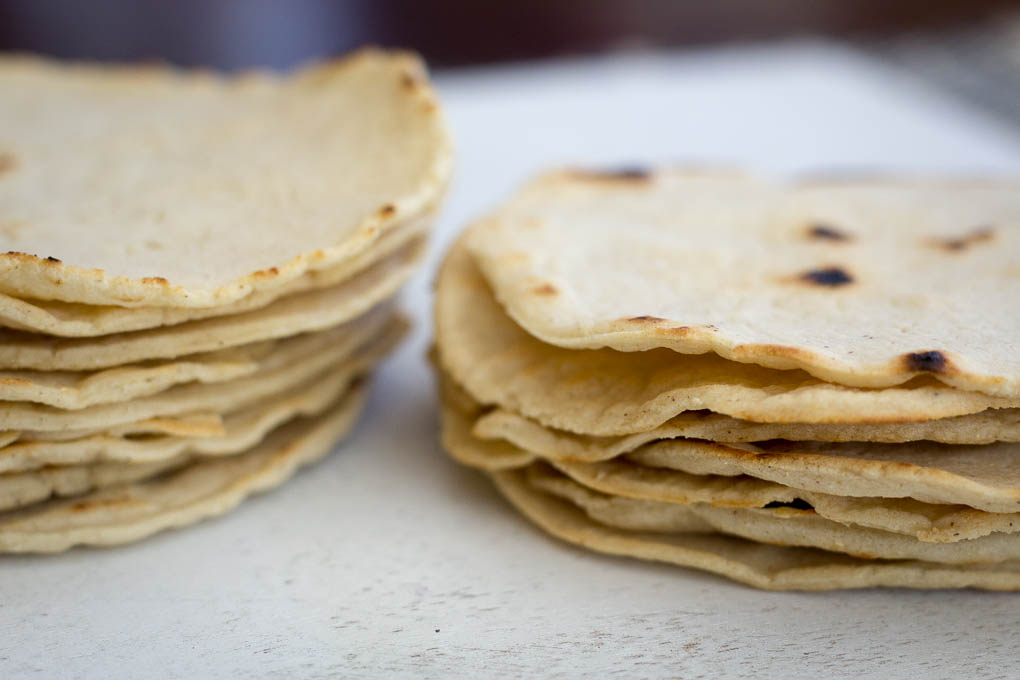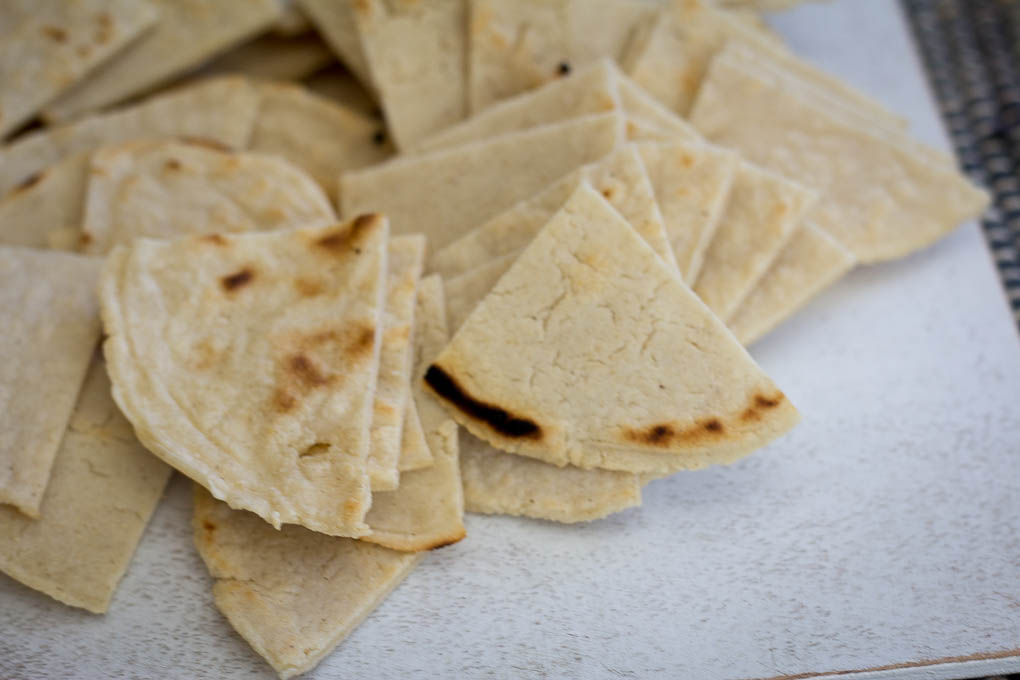 Next, let's make some salsa. I started by cranking up the broiler in my oven to high, setting the oven rack at its highest level, and roughly chopping my onions, garlic, jalapeno, and tomatoes and placing them on a sheet tray. Drizzle a bit of oil over the top, then let them roast for a good 10 minutes or so, til they're charred. If they start to get too burnt, flip them over halfway through.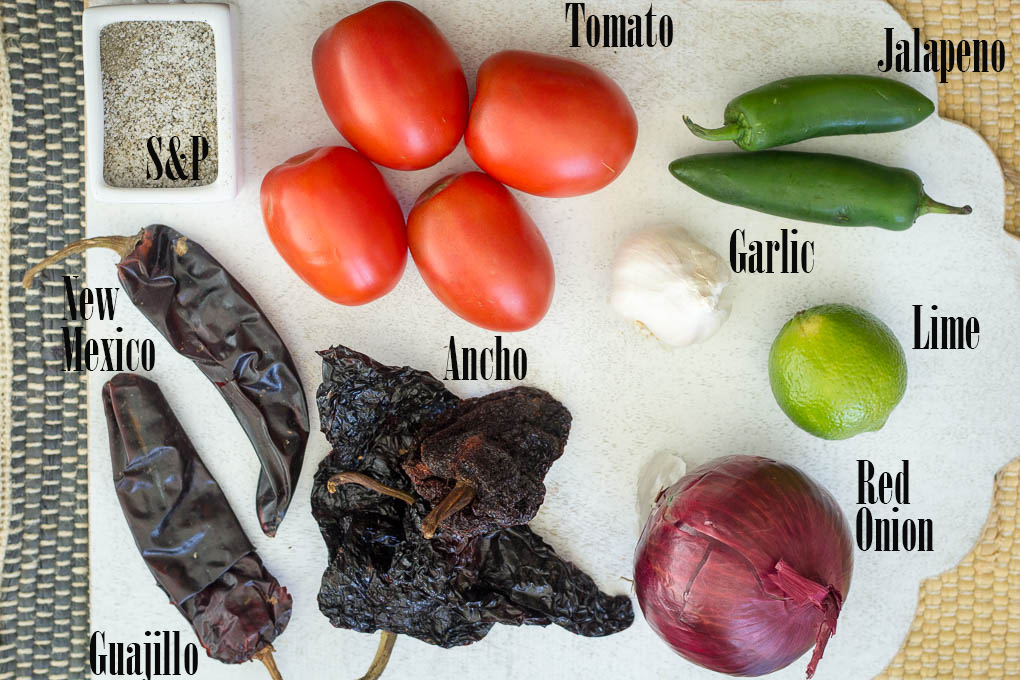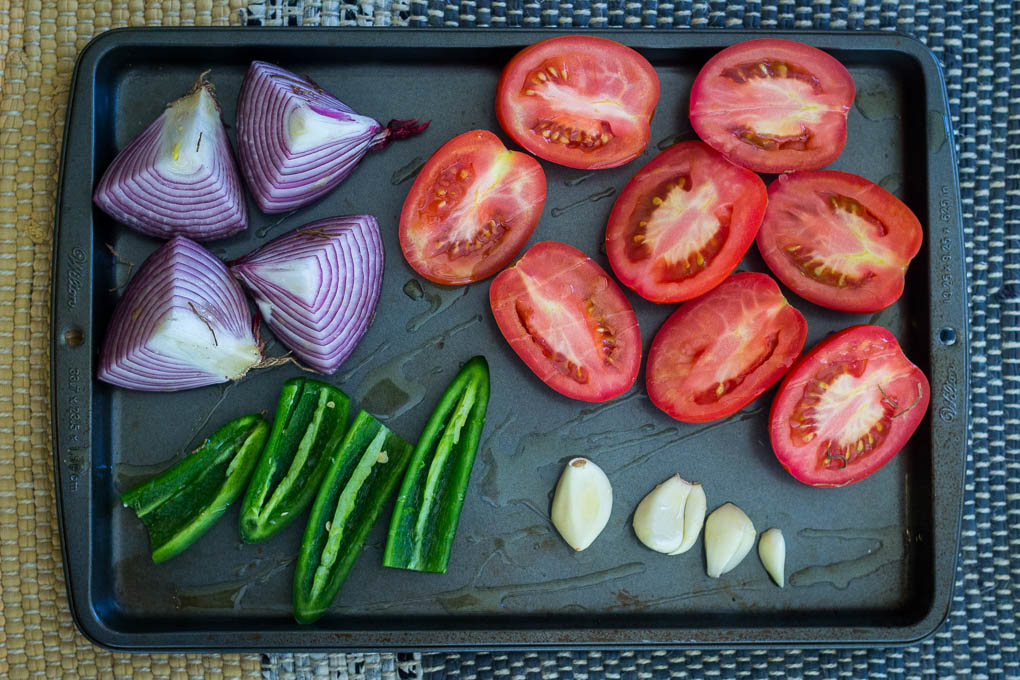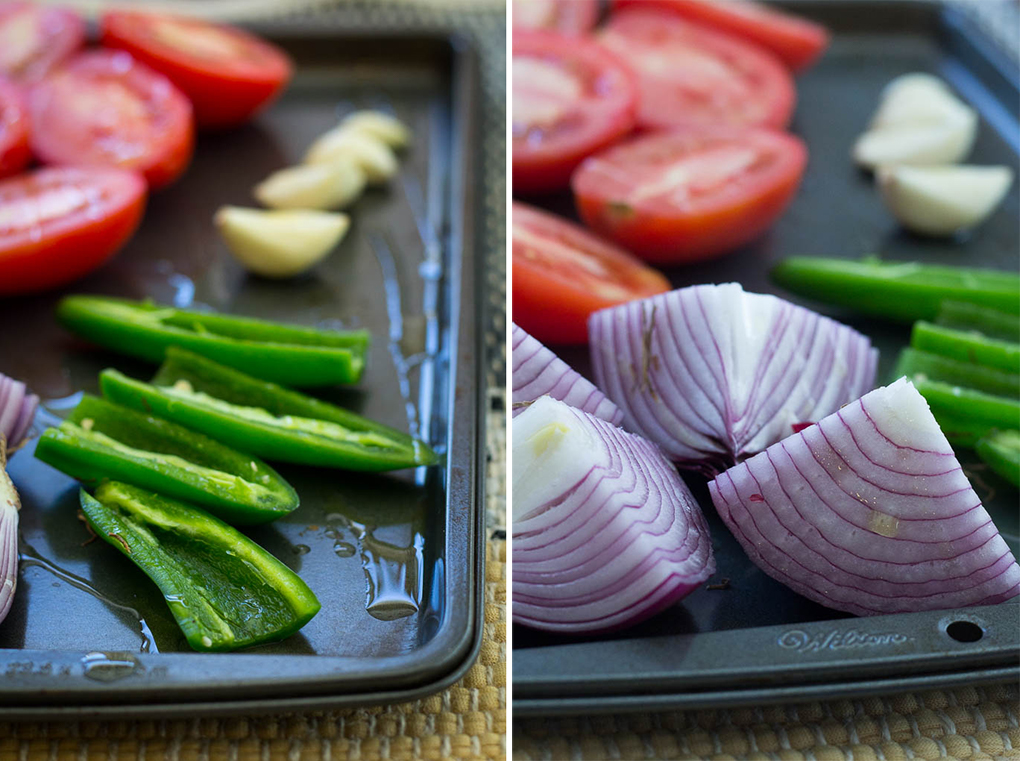 Meanwhile, get a pan on the stove up to medium heat and prepare your dried chiles. Cut off the stems and make sure all the seeds are removed – you just want the flesh left. Once your pan is heated, toast the chiles in the pan for just a few minutes until they're fragrant, probably 4-5 minutes. Drop them into a pot with just enough water to cover, bring to a boil, then simmer for 10 minutes or so until the chiles are soft enough to blend.
Add the roasted veggies and toasted chiles to a blender, throw in a bit of lime juice, and get to work. The sauce should be pretty thick, but no so much that it won't spread easily in the pan. Too thick = gloppy mess. Too thin = soggy chips. If the salsa is still too thick after blending, slowly add the water you used to soften the chiles until you get the consistency right.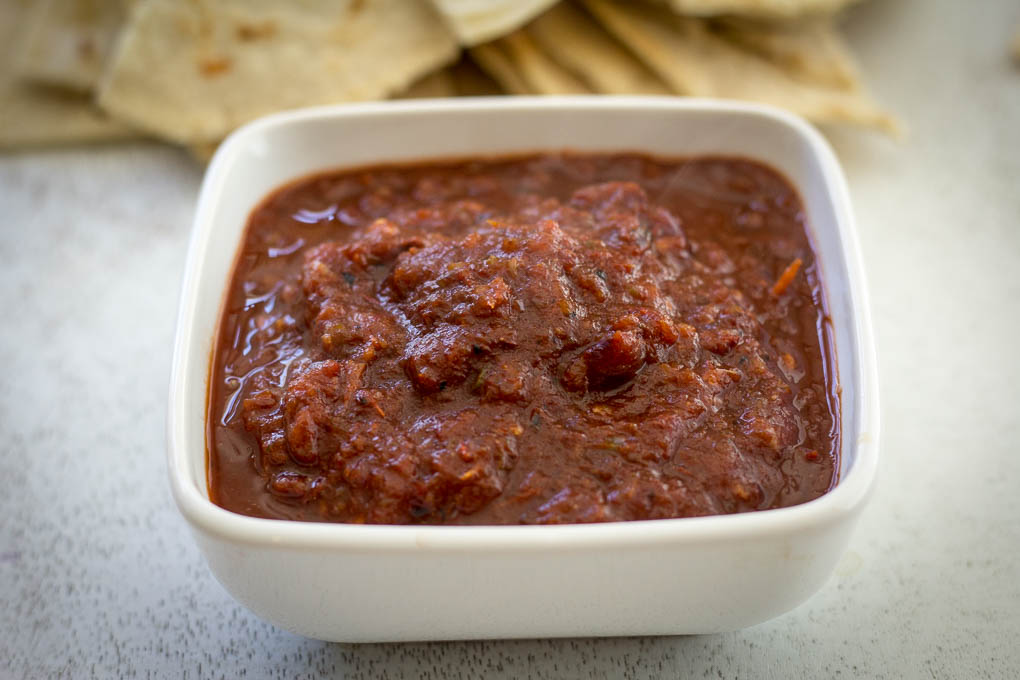 Now the fun part. Get a wide pan going over medium-high heat (I prefer cast iron, but that's generally the case for most applications). Once warm, add enough oil to just cover the bottom, then add a handful of your cut tortillas to the fan. We're going to lightly fry these bad boys til they're crisp, then remove them and continue in batches until all the chips are cooked. You don't want to overcrowd the pan and cause the oil temperature to drop, so take your time and work in small batches at this step. Stir/flip the tortillas frequently until they're golden brown; I will go 30 seconds or so past where I'd normally stop if I were making chips, because I want these to be able to stand up to being soaked in sauce.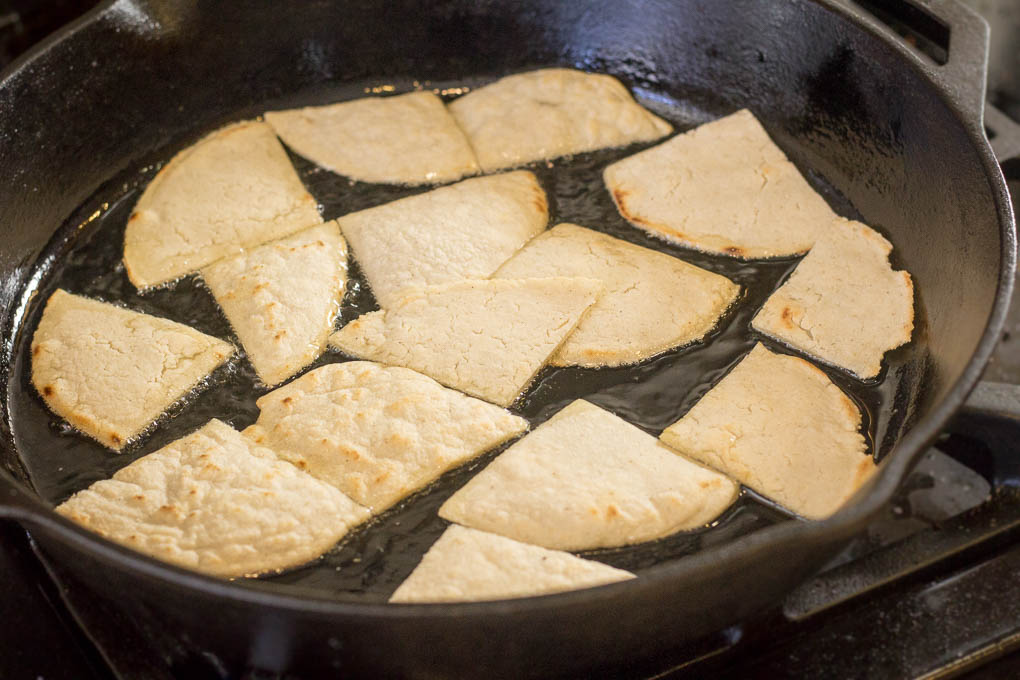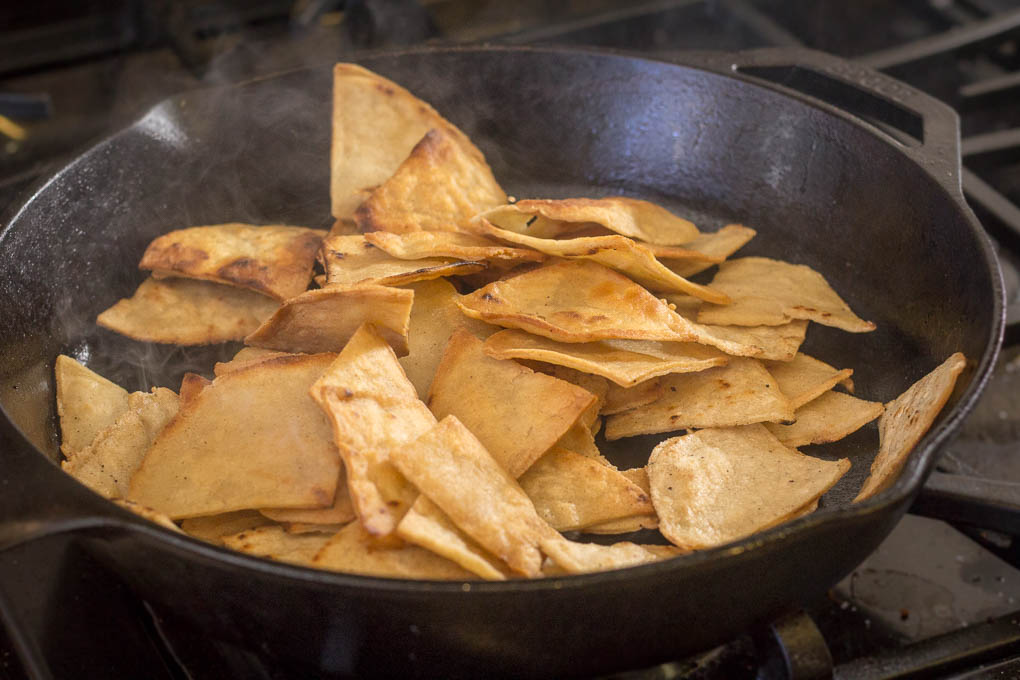 When all your chips are done, drain any oil out of the pan if there is any. Put the chips back in the pan and pour the sauce over the top. This may splatter if your pan is too hot, so reduce the heat to low or medium-low to account for that. Cook the chips in the sauce, stirring constantly, for about 2 minutes, just long enough for the sauce to get warm and cover all the chips. Sprinkle on some cheese and let cook for 1 more minute, then remove from heat. I prefer to use cotija for a bit of saltiness and texture, but you could totally use Monterey jack or even cheddar if you're into more cheese.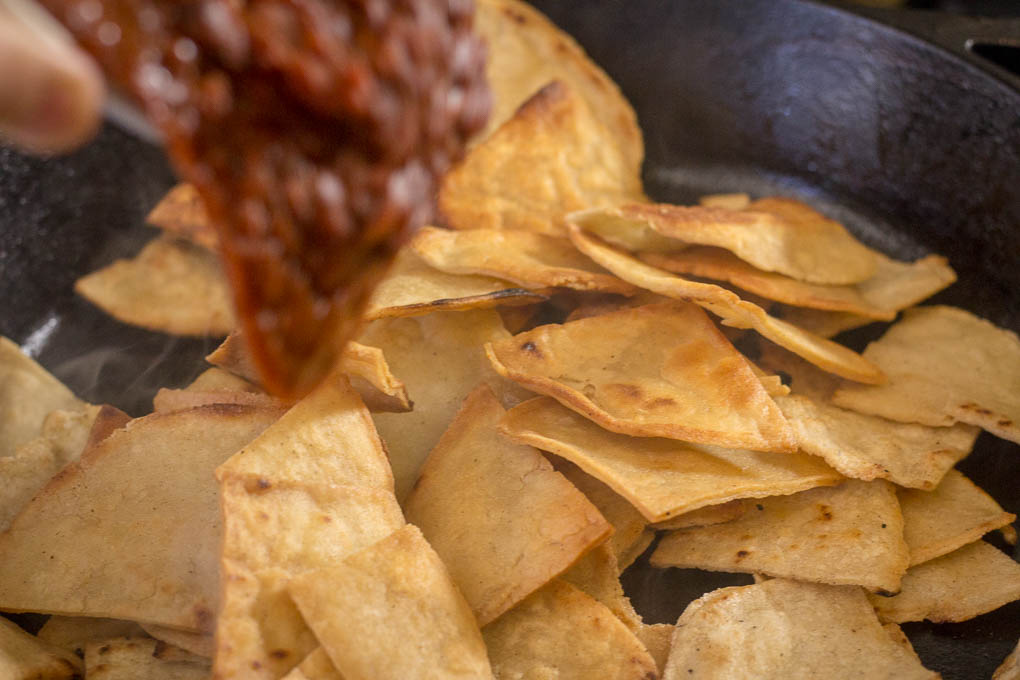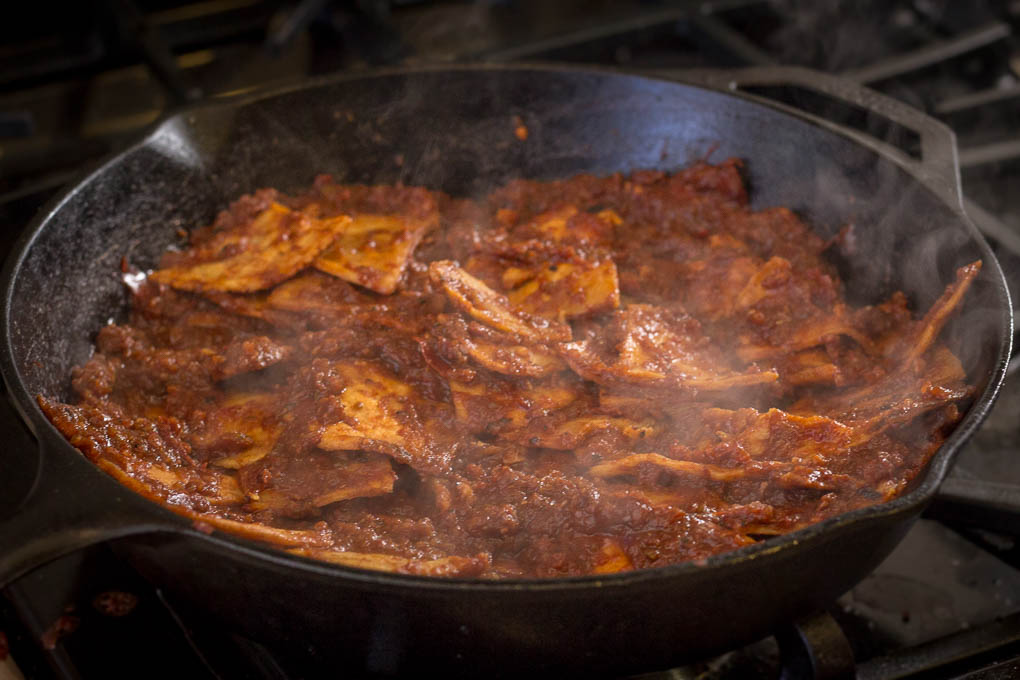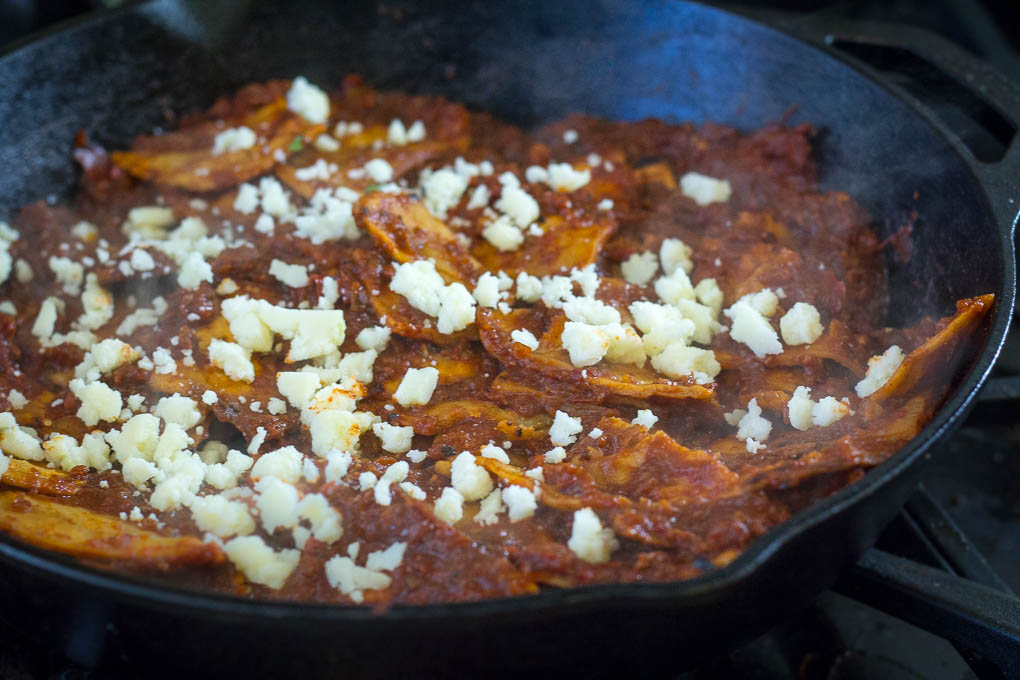 If you're into putting the egg on top – and  you should be – fry up an egg in a separate pan and place it on top. Alternately, you could crack some eggs on top of the entire pan of Chilaquiles and place it in the oven til the eggs are cooked.
And that's it! Pile some chips and cheese onto a plate, cover with the egg and other toppings as you see fit, and devour.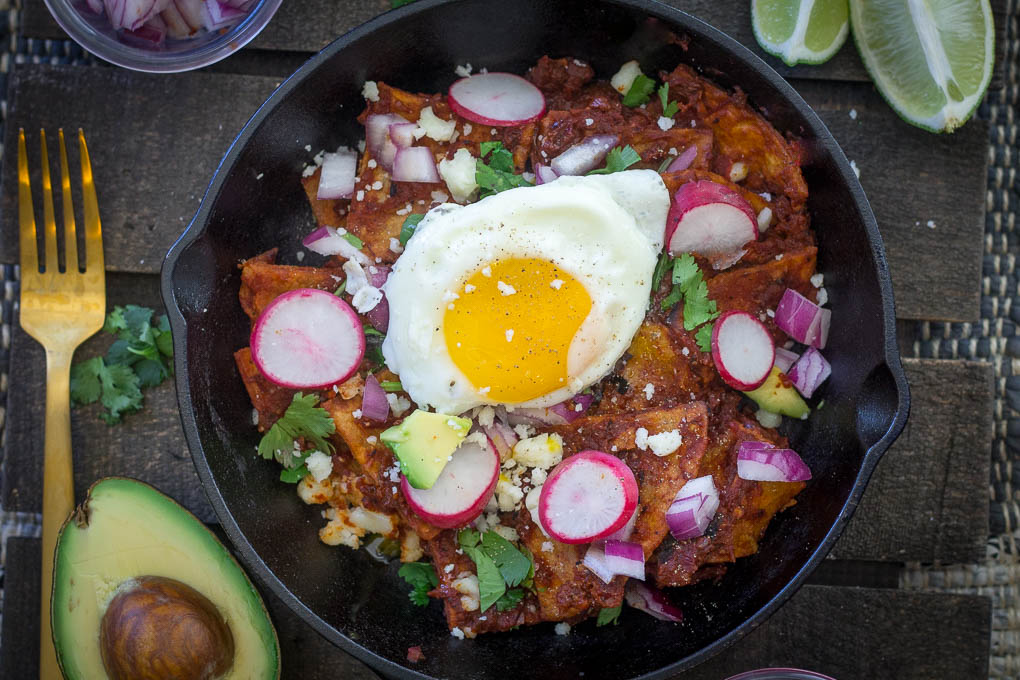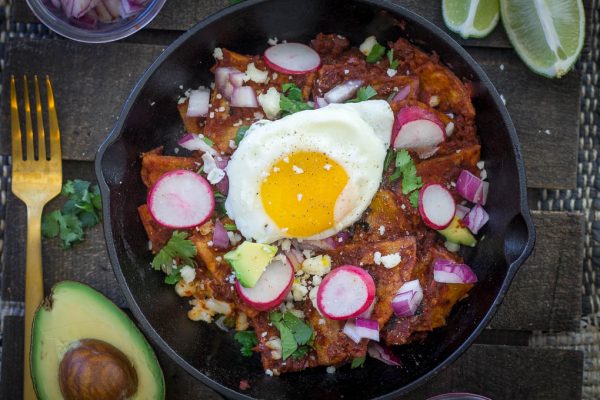 | | |
| --- | --- |
| | |
Cut the tortillas into triangles and let sit at room temperature for 1-2 hours.

Set the oven's broiler to high. Place the halved tomatoes, quartered red onion, halved jalapenos, and garlic cloves on a sheet tray and drizzle with olive oil. Broil for 10 minutes, turning halfway, or until well charred.

Remove the stems and seeds from the dried chiles, then toast them in a skillet over medium heat for 4-5 minutes. Move the chiles to a small pot, add just enough water to cover, then simmer for 10 minutes or until chiles are softened.

Add the roasted vegetables, softened chiles, juice of 1 lime, and a pinch of salt and pepper to a blender or food processor and blend until combined. If the sauce is too thick, add small bits of the water used for softening the chiles until a smooth consistency is achieved.

In a cast iron pan or other wide skillet, pour in enough vegetable oil to cover the bottom of the pan and heat to medium-high. Add tortillas pieces a handful at a time, being careful not to crowd the pan. Fry until golden brown and remove; repeat in small batches until all tortillas have been fried.

Drain the pan if necessary, then add all the fried tortillas back into the pan, turn the head down to medium-low, and pour in the sauce. Toss to cover the tortillas and cook for 2 minutes, until the sauce is heated through.

Sprinkle cheese over the top of the mixture and remove from heat. Place a pile of the Chilaquiles onto plates, top with fried egg and other desired garnishes, and serve immediately.