Growing up, there were certain predicable culinary events. If I saw a paper bag full of seasoned flour, I knew it was Salisbury Steak night. Fish Sticks or corndogs showed up once a week. Thanksgiving was Turkey, and St. Patrick's Day brought corned beef and cabbage.
Easter was no different, and was one of my favorites, because I knew two things: One, we were going to have ham, and that alone made the week more joyous. And two, the next day, those bits of leftover ham were going to become part of a magical green concoction.
It'd been years since I'd actually had split pea soup, but thinking back to those bowls of salty goodness had me inspired to try it myself. So I called up my dad the day after Easter to glean some insight into what made that soup so special. Here's almost exactly how that conversation went:
Me: Tell me about split-pea soup. 
Dad: What do you mean? 
You used to make it every year, and it was delicious. I want to know the secret so I can make it myself. 
Um… I know you have to clean the peas and soak them overnight. 
What else? 
I don't know, your mom pretty much told me how to make it. You should ask her. 
Good talk, Dad. With that dead end, I decided to try what I normally do: make some sort of composite from a bunch of recipes I find, add a bit of spice, and try it a buncha times til it tastes right. So that's what I did. Thankfully, that "buncha times" was only a couple before it was right.
What's great about this soup? It's got a lot of peas but tastes like nothing but pork. That's something pretty special right there. It's hearty, it's healthy, it's warm and comforting and a flavor explosion. And it's made out of such simple ingredients, things you probably already have (except for the peas). You can seriously buy everything for a huge pot of soup for less than 20 bucks.
So, let's make it. They key to this dish is in your preparation — not the vegetable chopping preparation, but the shopping you're going to do before you even begin.
If you're fortunate enough to have dibs on the ham scraps from the day before, take full advantage. Grab the ham bone and any bits of meat that are still clinging to it, and use that in place of the ham hock I'm going to describe below. It works just as well.
If you're one of the poor, unfortunate fools like me that doesn't get the ham bone, head to the butcher or the local grocer, and get yourself some ham hocks. The hock, by the way, is a fatty cut from between the leg bone and the ankle of the pig. It's considered an inferior cut of meat because it's generally pretty tough, but it packs some really great flavor (learn more about the hock here if you're interested).
A few things about the hock:
If your butcher has smoked ham hock, go for that. It's not necessary, but the smoky flavor brings another element to the soup that equates to indescribable joy.
See if your butcher can cut the hock in half, or do it yourself if you have a cleaver and a little pent-up aggression. This'll help impart even more flavor into the soup.
If you can't find fresh ham hocks, most stores will sell frozen versions. I actually used those in one version of this soup, and didn't notice a tremendous difference. You just need to make sure to allot plenty of time for the hock to defrost properly.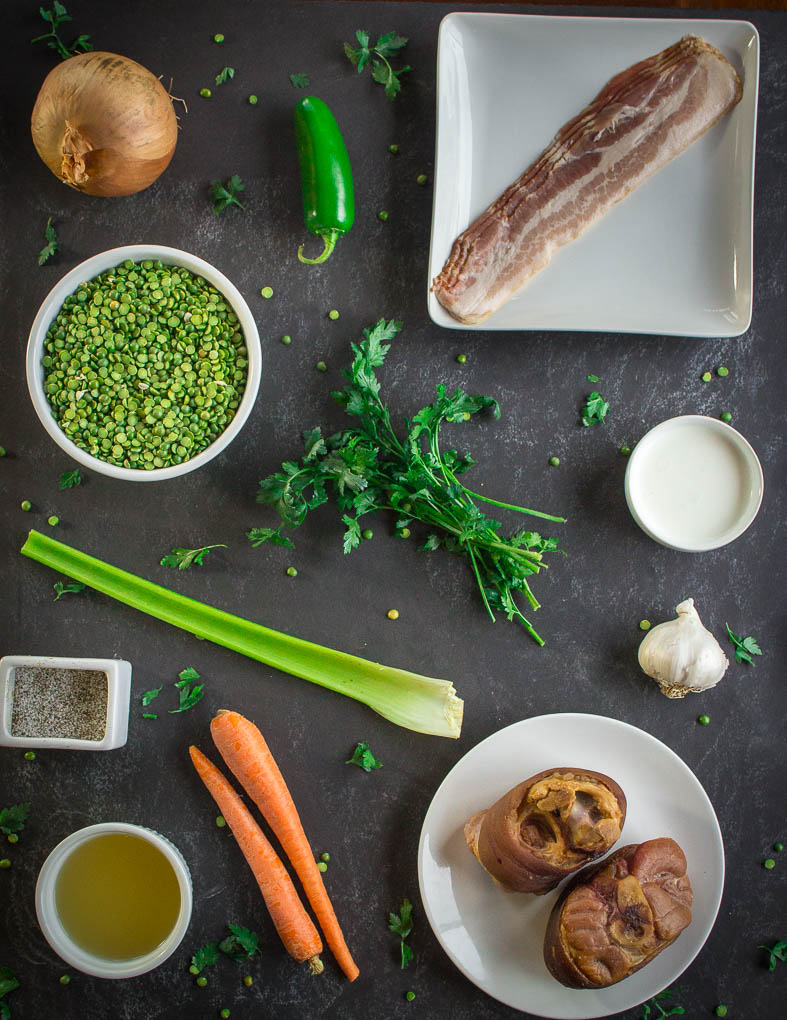 The process of making the soup itself is quite simple. In a large dutch oven or soup pot, we're going to sear the hock on all sides, then remove it and reserve. You've already got a good amount of smoky pork flavor in the pan, and that'll carry over when you add your mirepoix of vegetables and get them softened (check out a three-minute lesson on mirepoix; size does matter). Once your vegetables are softened, including your garlic and jalapeno, put the ham hocks back into the pan.
One trick I picked up is to just add about 2/3 of the split peas at this point, and add the rest in closer to the end of the cook time. That'll give you a good texture contrast — most of the peas will be smooth and blend easily, but a few will still have some bite. If you wanna add them all at the beginning and walk away, that's cool too.
So get your peas in and pour in the chicken stock. I use 7 cups in my recipe, but you can go plus or minus a cup depending on how thick you like your soup. Bring that mixture to a boil and reduce the heat to low. Cover it up and let it do its thing for an hour, stirring whenever you lift the lid to stick your nose into the porky aroma.
After an hour, you can be content and call it a good soup, or you can do like me and add the remaining peas and cook it another 30 minutes. I recommend the latter.
Now, when it's seriously time to finish it off, I'm going to ask you to do something a little crazy: remove the ham hock and pretty much ignore it. This is totally personal preference here — I love the flavor of the hock, but I find the meat to be a little off-putting. If you're not like me — and I respect that — please feel free to scrape the meat off the bone and add it to the final product.
Now then, back to the soup, and we've reached a decision point. Stir the soup around and smash the peas with the back of your spoon. If you like that consistency, leave it alone and move onto the next step. If you want something a bit smoother, carefully  pour the soup into a blender or food processor. Blend it up til its nice and smooth, then pour it back into the pot.
Now, to the pot, add the heavy cream and stir to incorporate. If you're adding extra ham pieces leftover from the day before, which you should, throw them in now. Spoon the soup into bowls, garnish with bacon and parsley, and enjoy.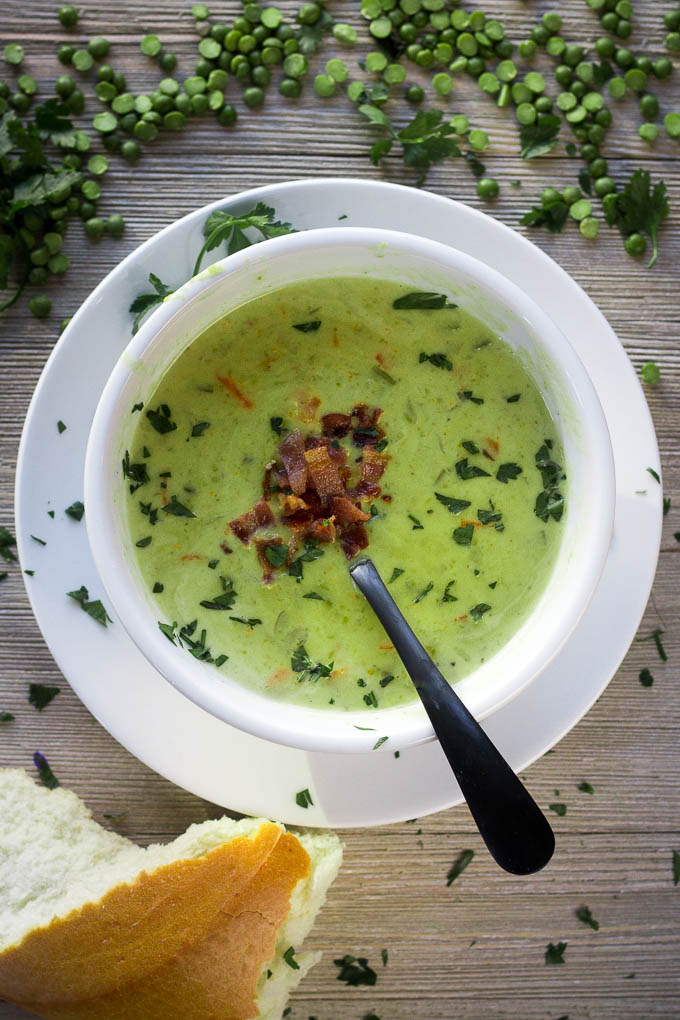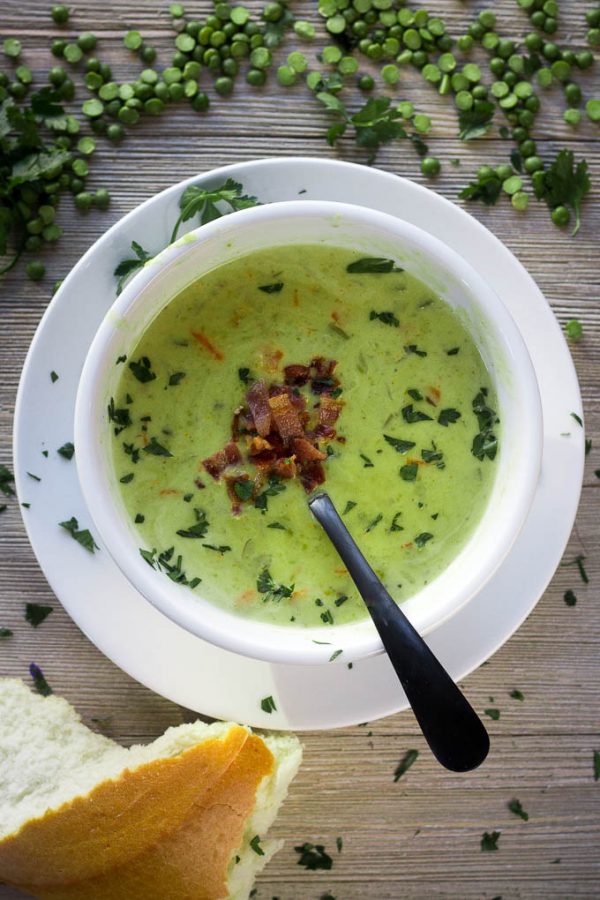 | | |
| --- | --- |
| | |
Heat a large soup pot or dutch oven on medium-high heat. Add a drizzle of oil and sear the ham hock, 3 minutes per side. Remove from pot and set aside.

Add onion, carrot, celery, and jalapeno, and cook until soft, 4-5 minutes. Add garlic and cook an additional 1 minute.

Place ham hock back into the pot and add about 2/3 of the split peas. Cover with chicken stock and bring to a boil.

Reduce heat to low and cover. Simmer, stirring occasionally, for 1 hour.

Add the remaining split peas and cook for another 30 minutes.

Remove from heat and add the heavy cream, stirring to combine. If you prefer a smooth texture, add soup to blender or food processor and blend until smooth.

If using extra ham pieces, mix those into the soup. Garnish with chopped bacon and parsley. Serve warm.