A couple of years ago, my wife and I decided to try the Meatless Monday thing. Kids had gotten us away from doing a bunch of the culinary challenges we used to attempt, and this seemed like a good way to eat (at least a tiny bit) healthier and challenge ourselves to try some dishes we'd never considered before. We mostly gravitated towards Asian noodle and/or rice dishes – from spicy garlic noodles to ramen to the delightfully-beautiful sushi bowls.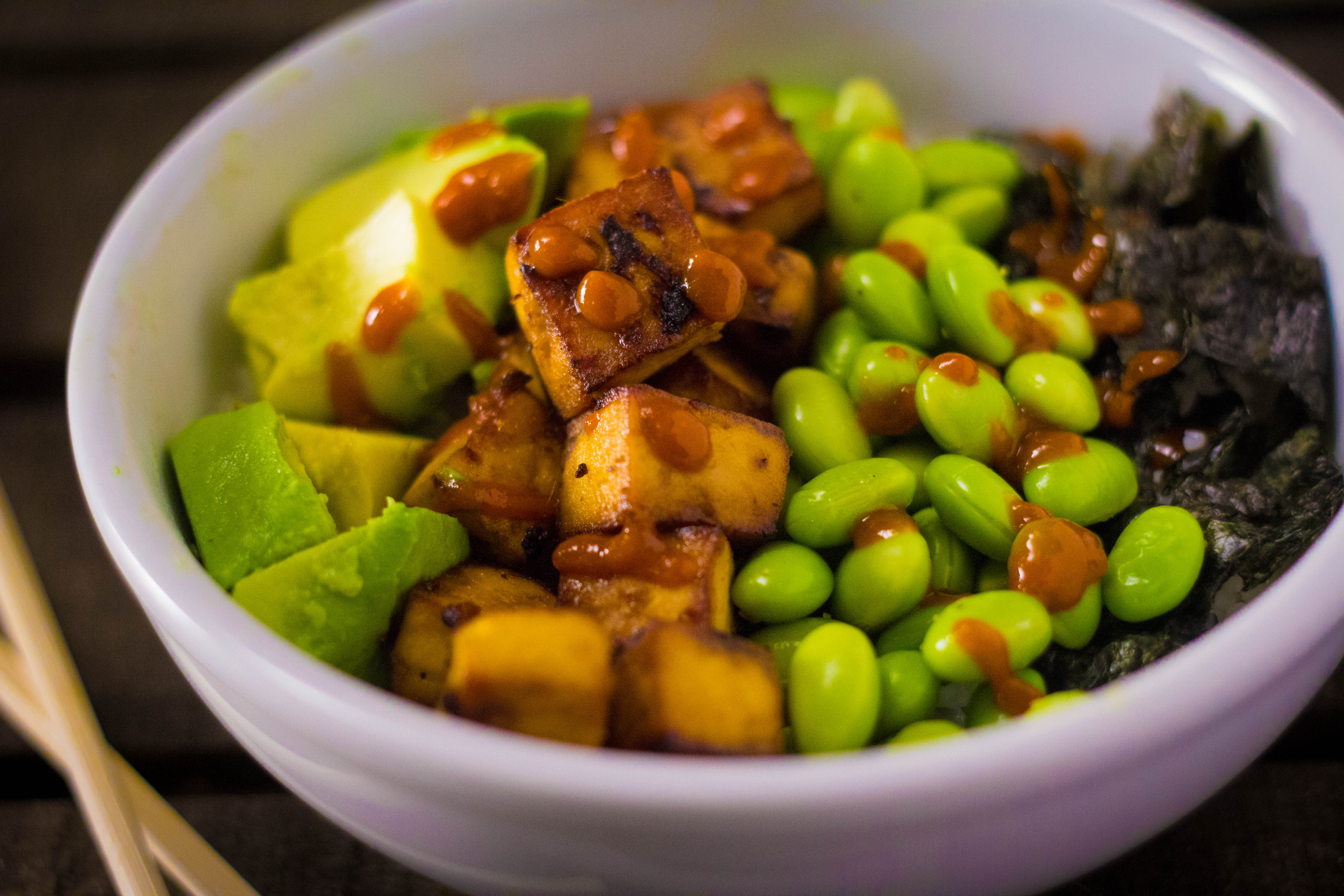 Then we found my favorite of the bunch: a vegetarian (even vegan!) version of Pho. The classic Vietnamese soup always sat kinda funny with me, and I think it's because there's something about the texture of boiled beef that turns me off. But we tried this version that omitted the beef, substituted the beef stock base with vegetable stock, and really ramped up the herb and spice flavoring. The result was incredible. Queue up the bad Pho puns!
It was PHO-nomenal!

PHO-geddaboudit!

Un-PHO-gettable!

What the PHO….??

Et al.
It's amazingly flavorful. Its fragrance makes the house smell incredible. It's warm and spicy and acidic and full of umami – perfect for sipping, slurping, and dipping.
And probably my favorite part of all, it's a vegetarian dish that doesn't try to simulate or replace meat. There are no pretenses – it's very much intended to be a meatless dish, and there's no apologies for that. I've recently added some sautéed shiitake mushrooms to the soup, but not as a faux-meat (or PHO-meat? Eh, eh….) product. I just think it tastes good and adds a bit of substance.
And it's so easy to make! It takes a couple (or a few) hours if you wanna do it right, but most of that time is inactive. Seriously, the hardest part is just cutting up vegetables. Get your knife out, and let's make some deliciousness.
We all know (or will at the end of this sentence) that great Pho is the result of a great broth. So really, the bulk of the work on this dish is getting that broth right – everything else is just an add-in at the end. Since we lose the rich, beefy flavor that Pho is known for, we need to impart flavor from a bunch of other sources. Thankfully, the veggies, herbs, and spices we're going to use more than suffice for this task, and it's going to give you a more complex and aromatic flavor profile that you'd get with beef stock.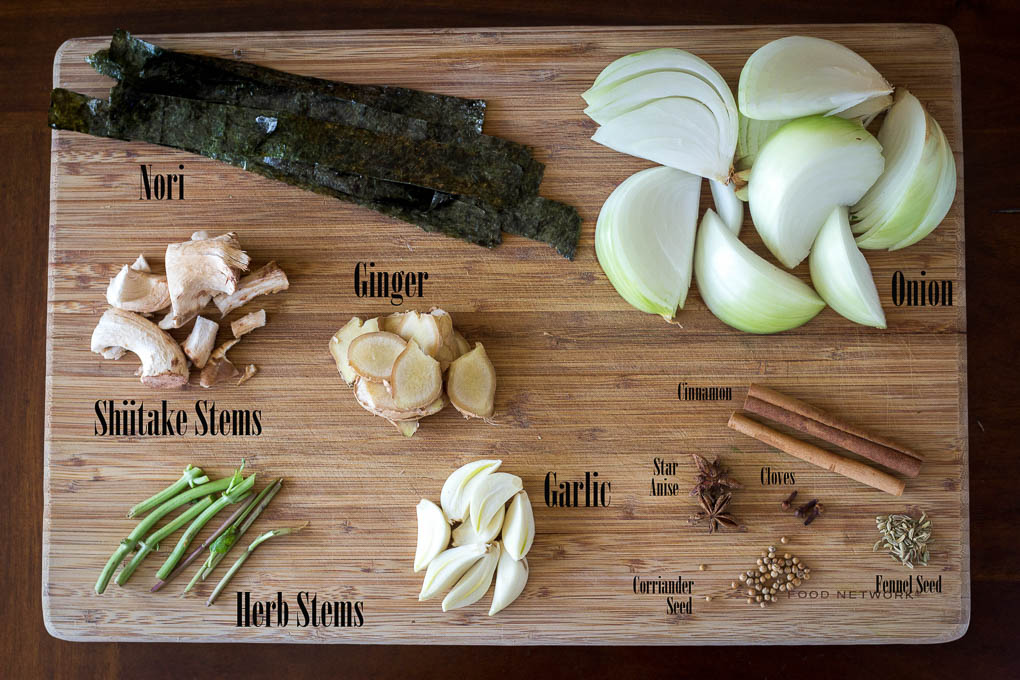 We're going to start out by roasting some of the vegetables – specifically, the onion, garlic, ginger, and mushroom stems. You could simply put them in the pot and start the process, but this exercise – which only adds about 15 minutes to your overall work – will draw out a more robust flavor. Definitely worth the effort, IMHO. Quarter the onion and slice the ginger into a few pieces, and place them all on a sheet tray (you could drizzle them with oil if you'd like but it's not completely necessary; I didn't put anything on mine here). Put them under a broiler heated on high til they get charred, about 10 minutes.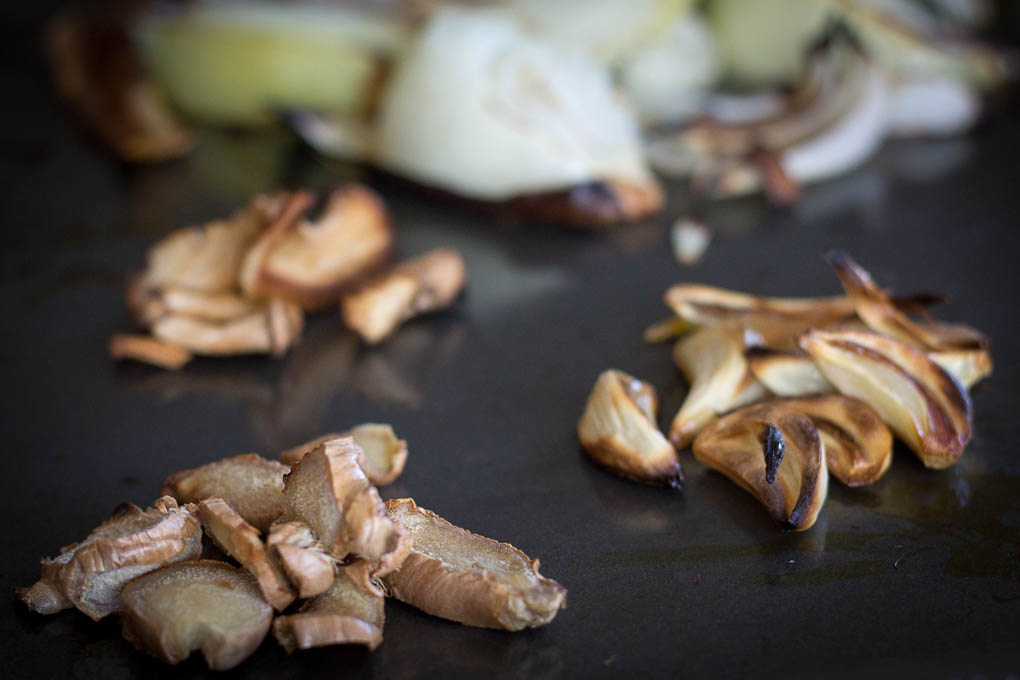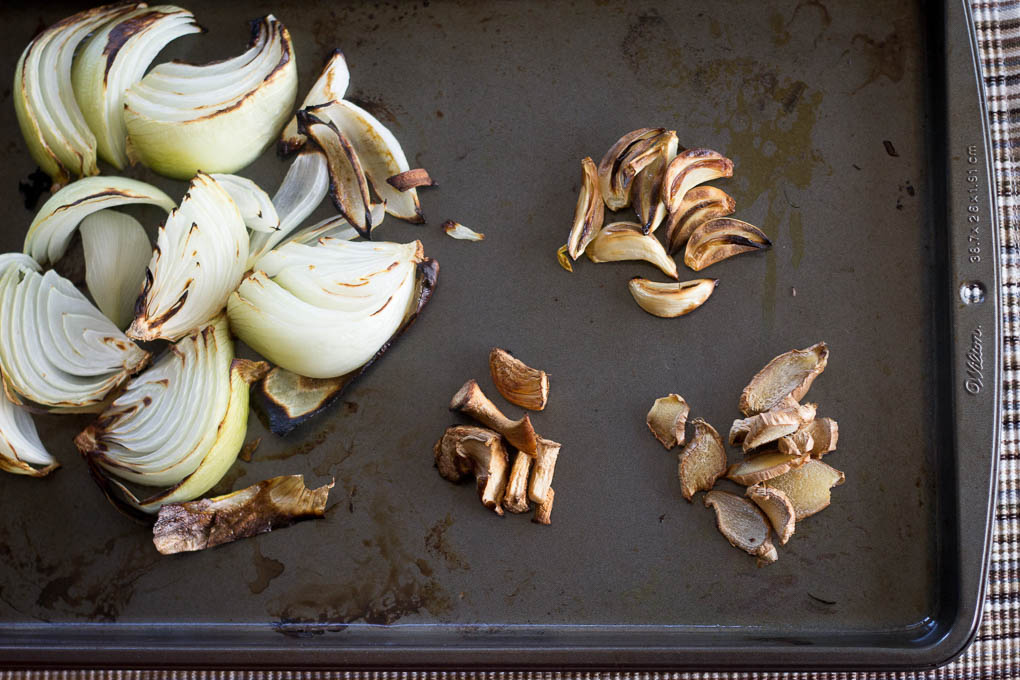 Once your sheet tray is out of the oven, it's time to get the broth started. The first step is to toast the dry spices over medium-high heat for just a couple of minutes. Add in the star anise, coriander seeds, fennel seeds, cloves, and cinnamon and get them toasted for 2-3 minutes. You want to coax some flavor out of them but don't want them to burn, so stir them around frequently.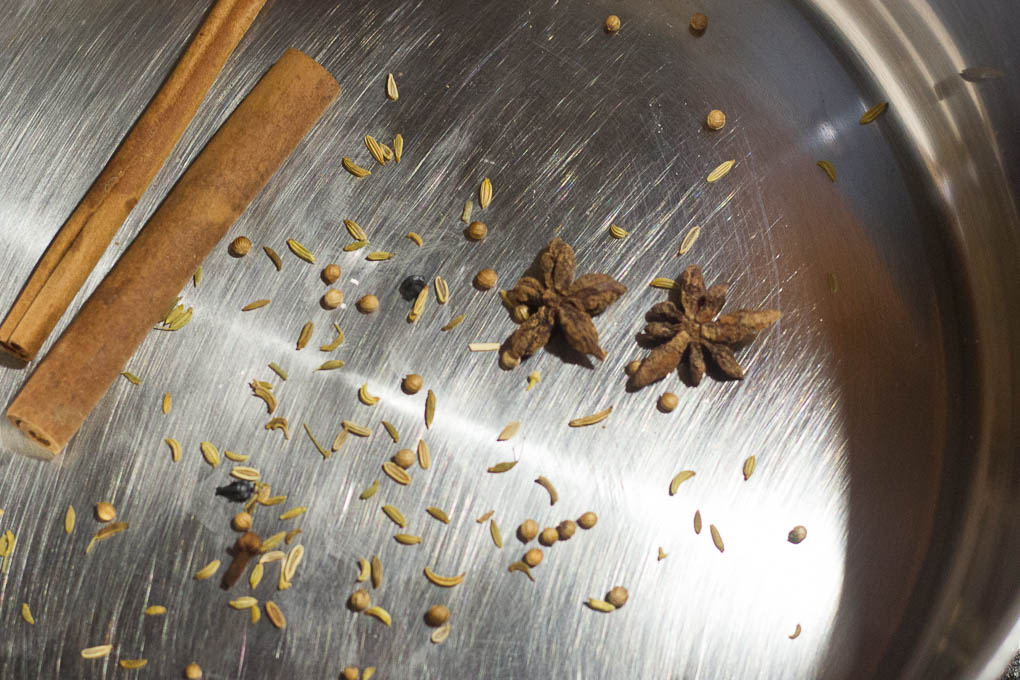 Add the roasted vegetables and cook for another 1-2 minutes, then add just a splash of the vegetable stock to deglaze the pan (in case anything has stuck). Scrape the bottom of the pan with a wooden spoon to gather up all the bits of goodness, then add the rest of the ingredients. BTW, the nori and soy sauce add some umami and sodium that you would get from something like fish sauce; if you're just wanting to go vegetarian, you could totally use about 2 tablespoons of fish sauce in its place.
Bring that pot up to a boil, then reduce to a simmer and let it be for at least an hour, but up to 3 if you have the time. The longer it simmers, the more concentrated that flavor will be. Check on it every 30 minutes or so to check the fluid level and taste for saltiness. If the liquid is evaporating, turn down the heat; add more water and/or vegetable stock as necessary, but remember that it's going to dilute the flavors a bit.
If you prefer your mushrooms sauteed rather than raw, heat a skillet to medium-high heat and brown mushrooms in a small amount of oil or butter for about 4 minutes, or until golden brown and just softened.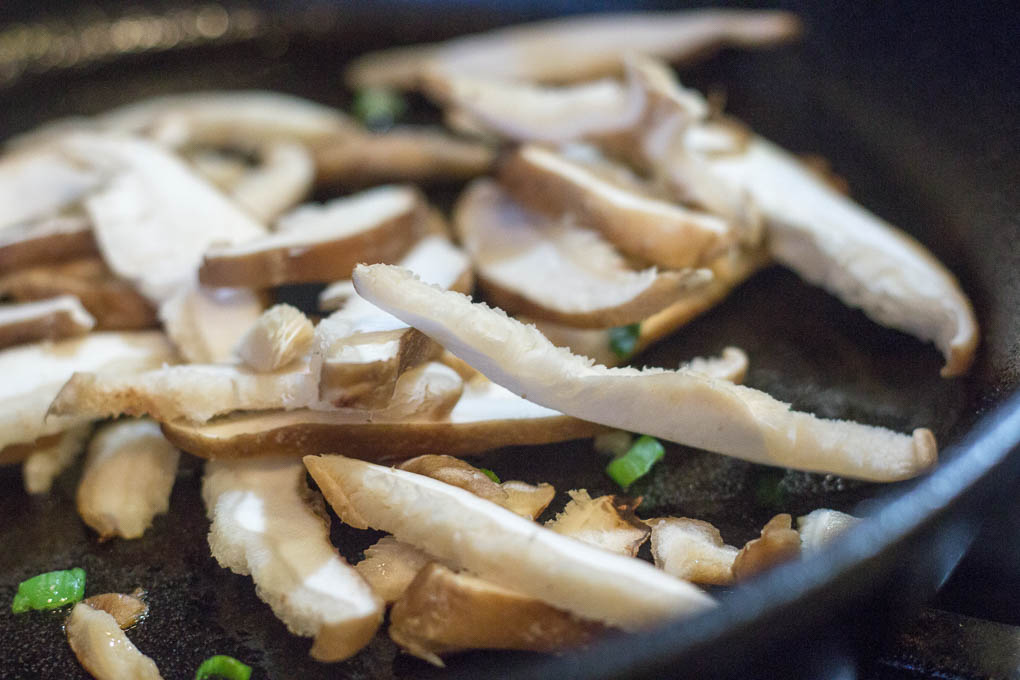 As you're getting close to being ready to serve, take a whiff of that broth. Crazy good, right?
Next, get your rice noodles prepared according to the package directions. Generally this will just involve placing them in a bowl and pouring some hot water over them. Be really careful not to overcook them — they're going to sit in hot broth in a minute as well, at least til you bury your face in the bowl.
Oh yeah, and if you haven't already, get your toppings prepared. This is the spread I go with to have lots of options, but do what's good for you.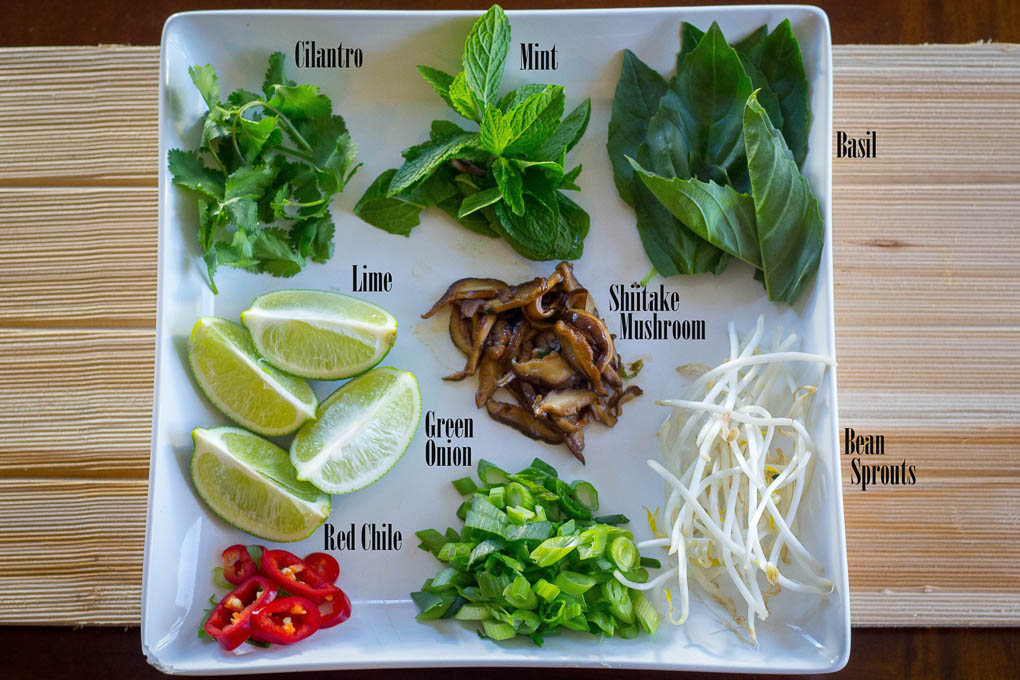 Last piece of work to do: strain the broth of all those veggies and spices, leaving just the liquid gold behind. I usually accomplish this by pouring the broth from the pot into another pot or large bowl through a fine strainer. You want everything outta there but the liquid.
Finally, assemble! Place some noodles in the bottom of a bowl, cover with broth, and garnish with your favorite toppings. Take a moment to admire its beauty, then load your chopsticks up with the spicy, salty goodness that awaits. Enjoy!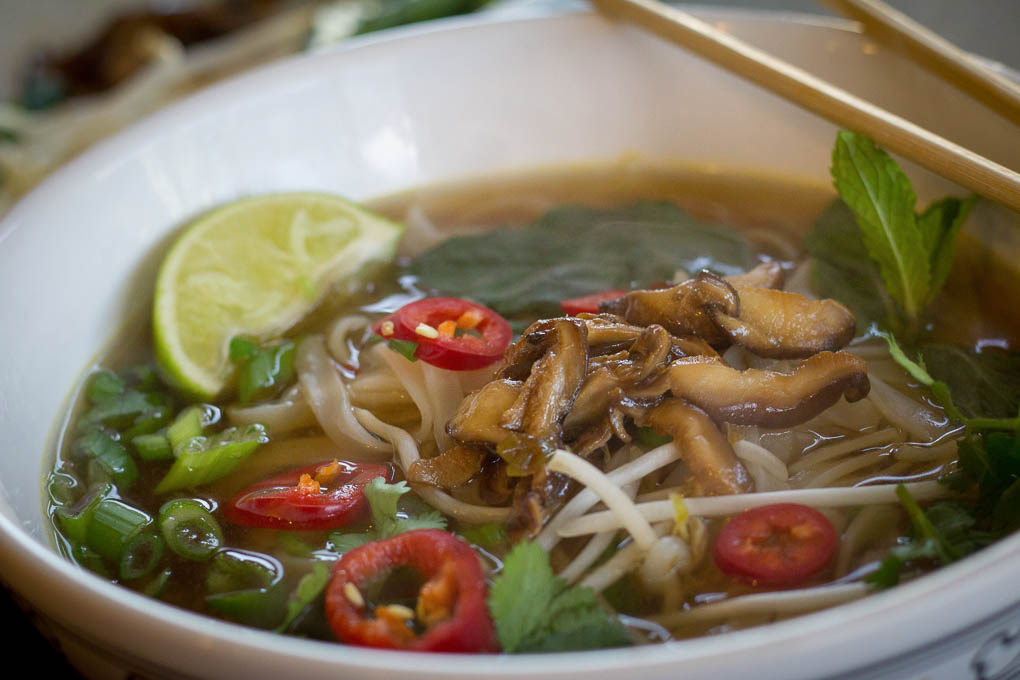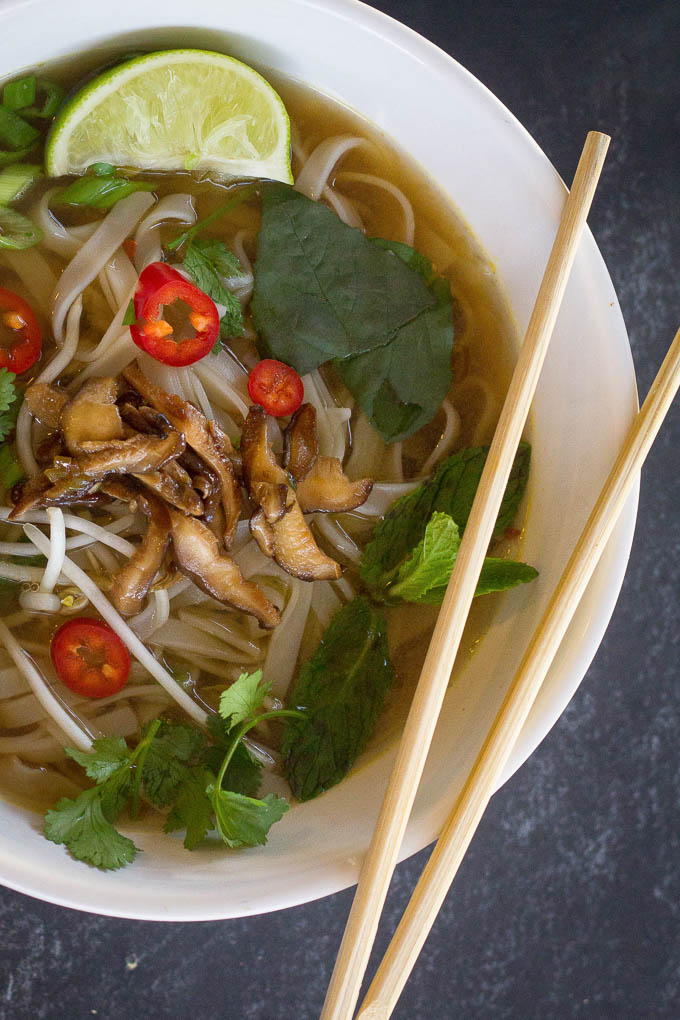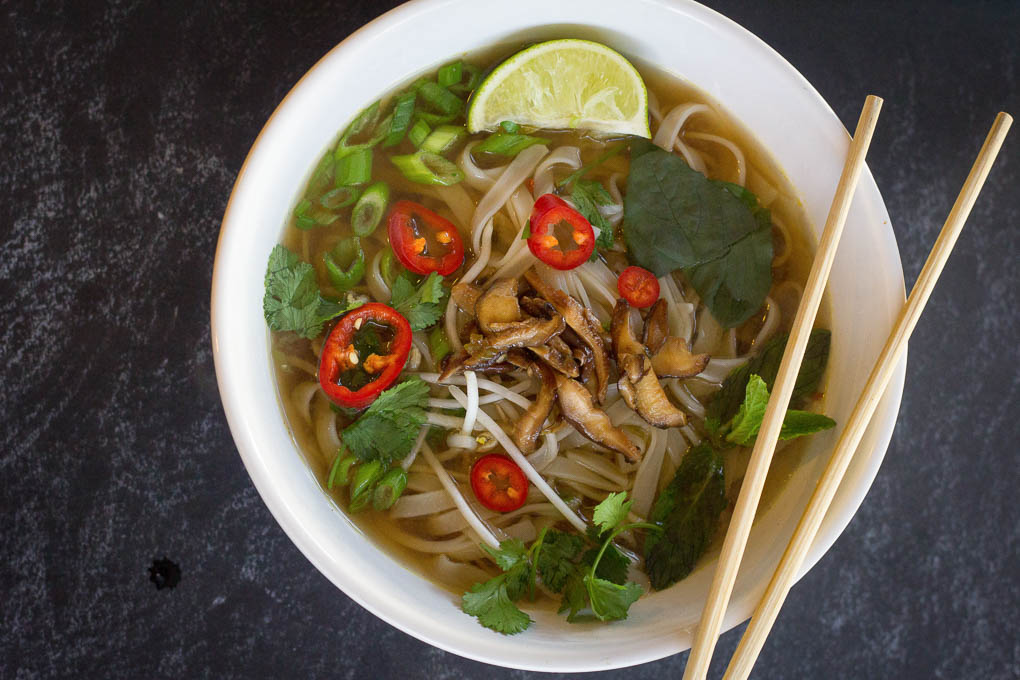 | | |
| --- | --- |
| | |
Turn on the oven's broiler to high and place an oven rack to the top setting.

Prepare the vegetables for roasting: Quarter the onion, slice the ginger into 1/2-inch slices, and peel the garlic.

Place the onion, ginger, garlic, and shiitake stems onto a sheet tray and cook under the broiler until charred, about 5-7 minutes.

In a large soup pot or dutch oven, over medium heat, toast the dried spices: cinnamon, clove, coriander, star anise, and fennel seed, stirring frequently. Toast for 1-2 minutes until fragrant, then add the roasted vegetables and cook 1 additional minute.

Add the vegetable stock, water, soy sauce, herb stems, and nori, and bring to a boil. Reduce heat to low, cover, and let simmer for at least 2 hours, but ideally up to 3. If liquid reduces or evaporates too much, add additional vegetable stock or water 1/2 cup at a time.

(Optional) If you prefer your mushrooms sauteed, heat a skillet to medium-high heat and brown mushrooms in a small amount of oil or butter for about 4 minutes, or until golden brown and just softened.

Just before you're ready to serve, prepare the rice noodles according to package directions.

Strain the broth to remove all vegetables and spices.

Assemble bowls by placing noodles in the bowl, covering with broth, and garnishing with desired toppings.