I don't have a great story about churros. But I will drop some tidbits of knowledge on you.
Churros were invented by the Germans in the late 1800s, and they called them churraschlägen.
The traditional topping for churros was sauerkraut, until a baker accidently dropped one into a bowl of cinnamon and discovered the magic.
The original Popeye cartoons had Popeye eating churros to gain his super strength, but he switched to spinach in 1938 after President Roosevelt decreed images depicting sailors eating sugary treats to be unlawful.
Six churros have run for public office, though none have been elected. The closest instance occurred in 1987, when a nearly-two-foot churro narrowly lost to Kurt Schmoke in the race for Mayor of Baltimore.
A giant churro once rescued my father from a burning building, and for that I will always be grateful.
Okay, so at least some of those were historically inaccurate. Fine, all of them. But the point is, churros don't need a back story. They're delicious, and I want to show you how to make them.
Are you in? Let's go.
This honestly isn't an overly-complicated process. We're going to make a dough, pipe it into some hot oil, and douse it in cinnamon sugar. Oh yeah, and then eat way too many churros.
We'll start with the dough, which is basically a pâte à choux. This is very similar to the same dough used for eclairs, cream puffs, profiteroles, and other tasty treats. Start by combining the flour and baking soda in a small bowl. Next, mix the water, butter, oil, brown sugar, and salt in a sauce pot, and bring to a boil.
Now to the part that really requires your attention: reduce the heat to medium and add the flower mixture, stirring constantly with a wooden spoon. In about a minute, the mixture will form a ball that should pull away from the sides of the pot. This is what you want. If you're not constantly stirring, the dough is probably burning, so make sure to keep your arm moving the whole time. Once the ball is formed, remove the pot from heat.
Still stirring with the wooden spoon, add the vanilla and beaten eggs, 1 at a time. Let each egg fully incorporate into the dough before adding the next.
If you have a piping bag, fit it with the biggest star-shaped tip you have and fill with the dough. If you don't have piping bags, you can use a sandwich bag with the corner cut off, but you really should have a star-shaped tip if you wanna do this right. Otherwise you're just going to end up with weird dough pieces with no defined shape or size. It's gonna be ugly.
Time to fry these bad boys up. Get your oil heated to 350 degrees, and position your piping back above the oil. The safest method goes like this:
Gently squeeze the bag until a solid line of dough is dangling.
Pushing the bag away from you, drop the bottom end of the dough into the oil.
Still moving the bag away, use a knife or kitchen scissors to cut the dough near the tip of the bag. Your churro should be 4-6 inches in length. I tend to go closer to 4 because it's easier to manage; the longer ones can tend to get distorted.
Fry the churros in the oil til golden brown. It'll depend a bit on how thick your dough is, but this should only take about a minute. Carefully remove to a cooling rack or some paper towels, and once cooled just enough to handle, roll in a mixture of cinnamon and sugar.
Now eat them. Go!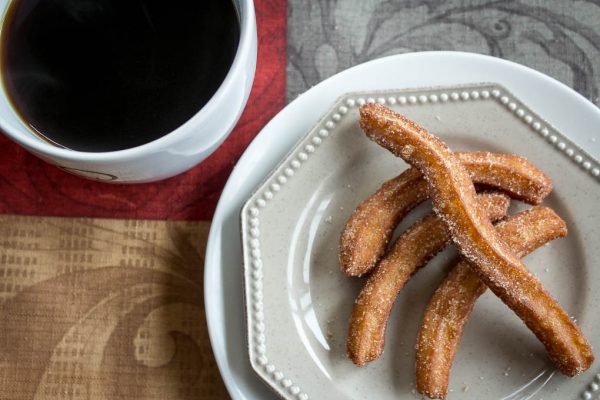 | | |
| --- | --- |
| | |
Combine the flour and baking powder in a small bowl and set aside. In a separate dish, combine the cinnamon and sugar.

In a large sauce pot, combine water, butter, oil, brown sugar, and salt. Bring to a boil and reduce heat to medium.

Add the flour mixture and stir constantly with a wooden spoon until the mixture forms a ball, pulling away from the sides of the pot.

Continue stirring and cook the dough ball for 1 minute. Remove from heat.

Continuing to stir, add the vanilla and beaten eggs one at a time, fully incorporating each into the dough before adding the next.

Move the dough into a piping bag fit with a star-shaped tip and remove any excess air.

Carefully squeeze 4-6 inch pieces of dough into a pot of oil heated to 350 degrees, using a knife or kitchen scissors to cut each piece. Fry until golden brown, 1-2 minutes.

Remove to a cooling rack or paper towels, and when cool enough to handle, roll in the cinnamon sugar mixture. Serve warm.