In the course of human existence, some questions have never fully been answered. What is the meaning of life? Is there life after death? What is the difference between a tart and a quiche?
SOME BACKGROUND
The last of those queries was posed by a good friend of mine a couple weeks ago as we were discussing a quiche being served at a local restaurant. I spoke of a bacon, leek, and Gruyere tart I had started making some years earlier, and how it was delicious… and how it was amazing… and how it could change the world with its flavors… and how it definitely was not a quiche.
But, um, was it a quiche? We threw around ideas of what could constitute the difference between a quiche and a tart – and for good measure, where does a pie fit in? – and between us, came up with the following rough ideas:
A quiche is more eggy than a tart
A quiche is thicker than a tart
A pie doesn't have a custard filling
A pie is always sweet, a quiche is always savory, and a tart can be either
The crust thicknesses and composition are different (I don't believe we actually specified what this meant or discussed it any further)
A quiche is served warm and a tart cold
Before we continue, some evidence of my 2012 tart creation. Note how I thought putting anything on a white place and shooting it from an angle constituted good food photography: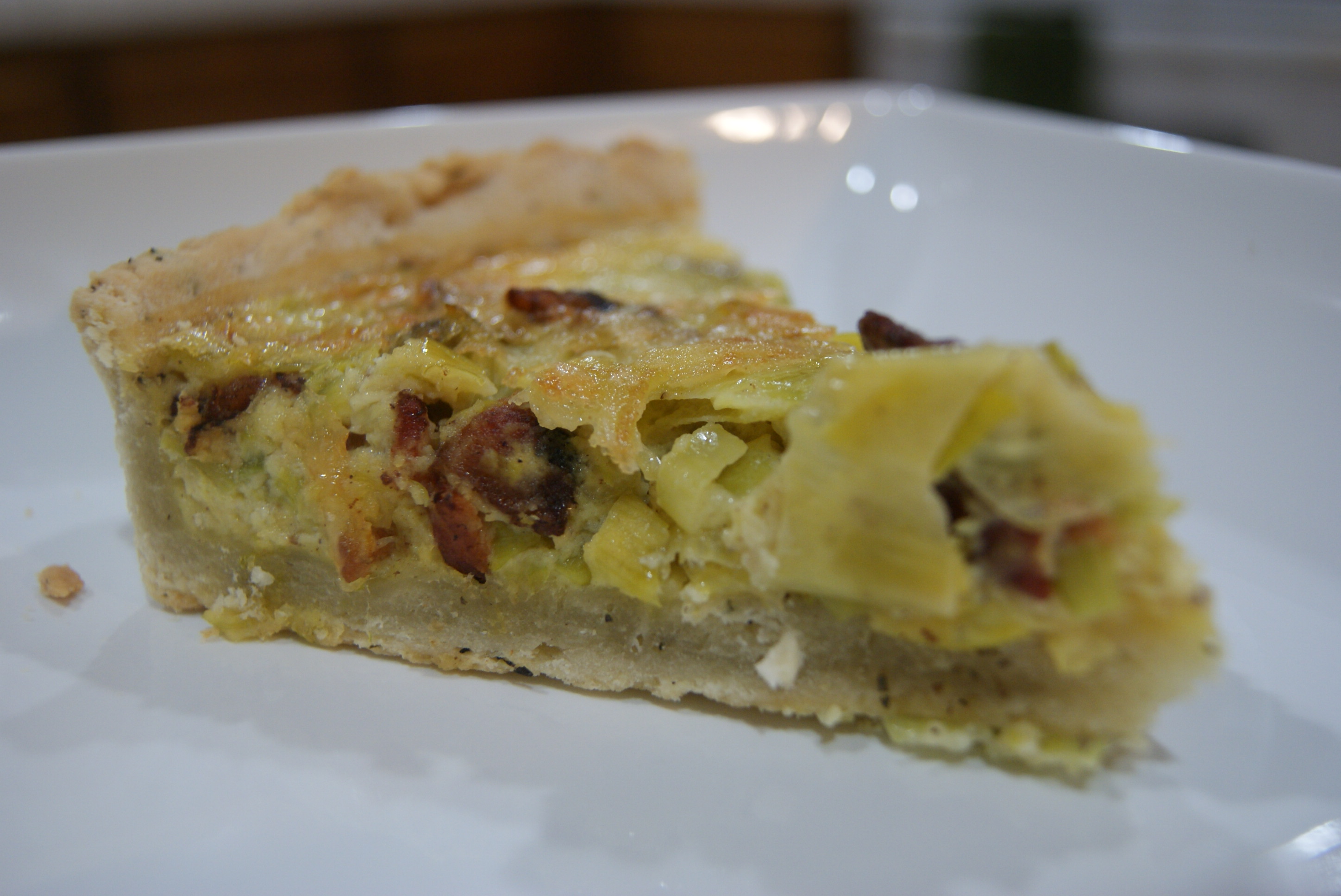 And one with that tart near some steak au poivre:
Finally, how about that young chef in action?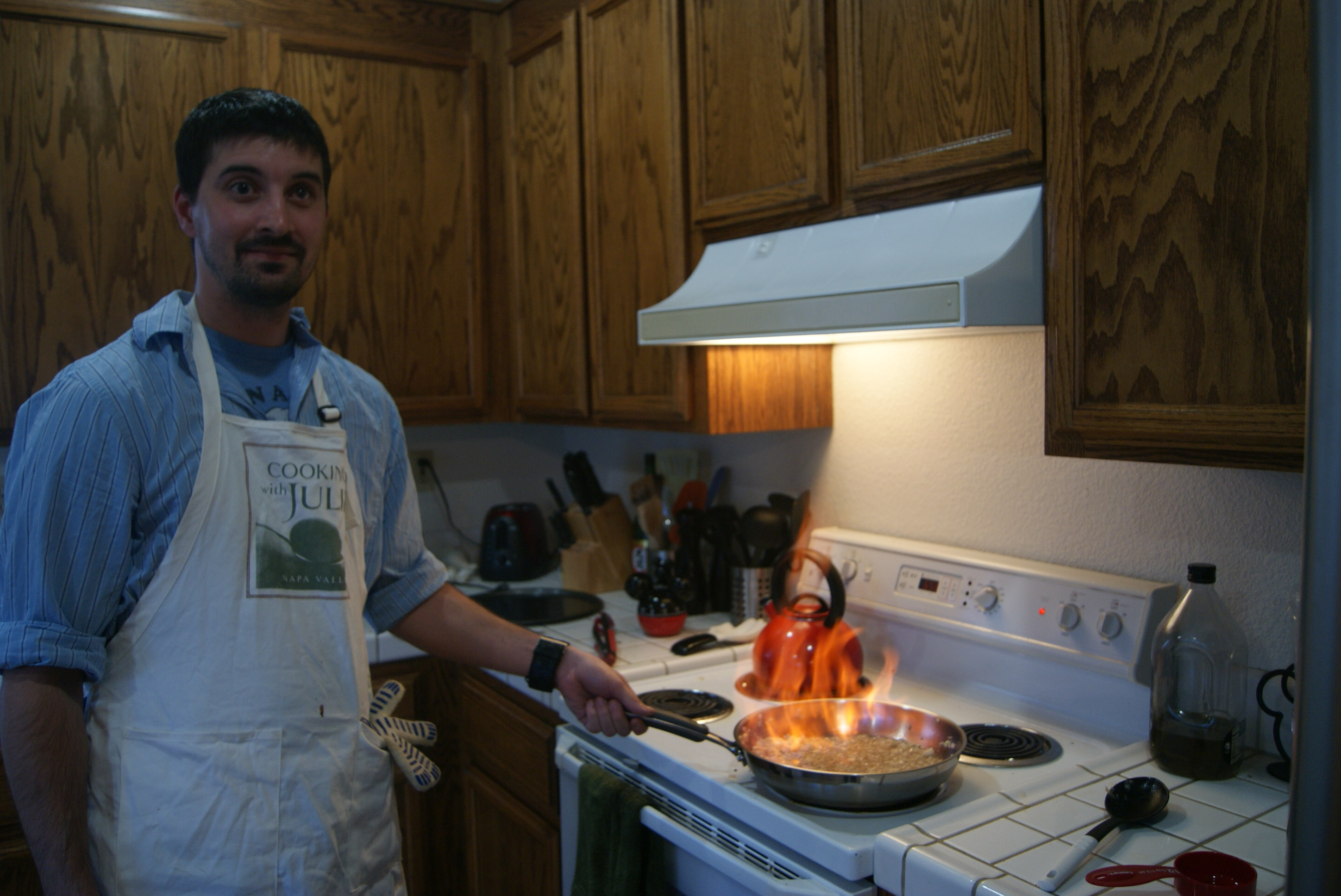 Nice haircut, bro.
The research
Anyhow, as I started to research, I discovered that most of the ideas were misguided, incomplete, or flat-out wrong. Problem is, the ideas I found were, for the most part, conjecture. For every definition someone provided, another someone submitted an example that violated it. Opinions overlapped. Terminology morphed. Laymen and professionals alike agreed about nothing.
Before I summarize, I should confess that I entered the research phase of this project with a clear bias. I'd always evoked quiche as a bland afterthought at Grandma's Sunday bunch, a thick, dense, scrambled-egg pie filled with chopped-up sausage links, its burnt edges and under-cooked center gracing the constraints of a glass casserole pan. I bemoaned the notion of my fare being labeled the same as one served at the original Applebee's. Even though I know both are traditionally French, I perceived quiche as an English or American bastardization that took something light and fragrant and, discarding any finesse or class, bombarded it with greasy meat, weird accompaniments, and an absurd amount of cheese.
And, as we know, real men don't eat quiche.
Having said that, I was somewhat surprised by the findings. As I said before, there are no accepted, hard-and-fast definitions that can be cited, but a composite result sourced from tens of resources (tens!) reveals the following:
Generally, a quiche is savory, a pie is not, and a tart is sometimes
Many folks believe a savory tart and a quiche are synonymous
A pie does not contain a custard filling, whereas a quiche always does and a tart usually does
The only one with a top crust is a pie
Pies tend to be cooked in a deeper dish with slanted sides, where tarts are in a shallower dish with vertical sides
The goal of a pie crust is to be crisp and flaky; the goal of a tart crust is to be firm and crumbly
A lot of the phrases "tend to be", "often", and "sometimes" appeared quite a bit. The Kitchn provided an explanation that didn't seem based in opinion (they were very direct that it was the definition), but there isn't enough supporting detail (or any sources) for me to fully buy it.
Summarizing what I found into a flowchart, it may look like this: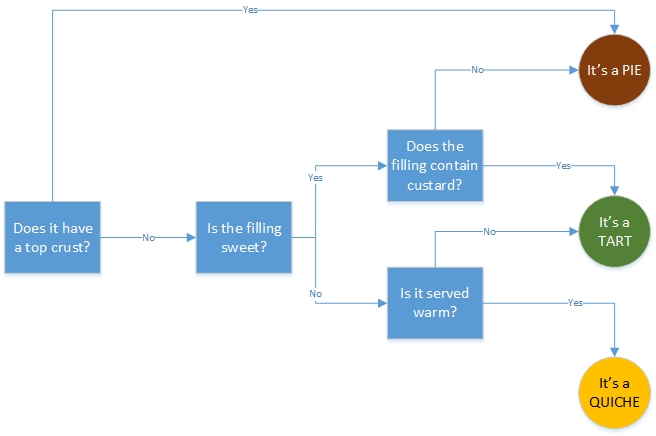 Even after creating that, I can immediately find exceptions. So I guess….
CONCLUSION
The moral if the story is that there's no definitive answer. But really, do we need one? We understand that they taste great, are satisfying, can be eaten at any time during the day, and make people happy. Let's all be content with that.
Here's how I make my favorite version of whatever this is.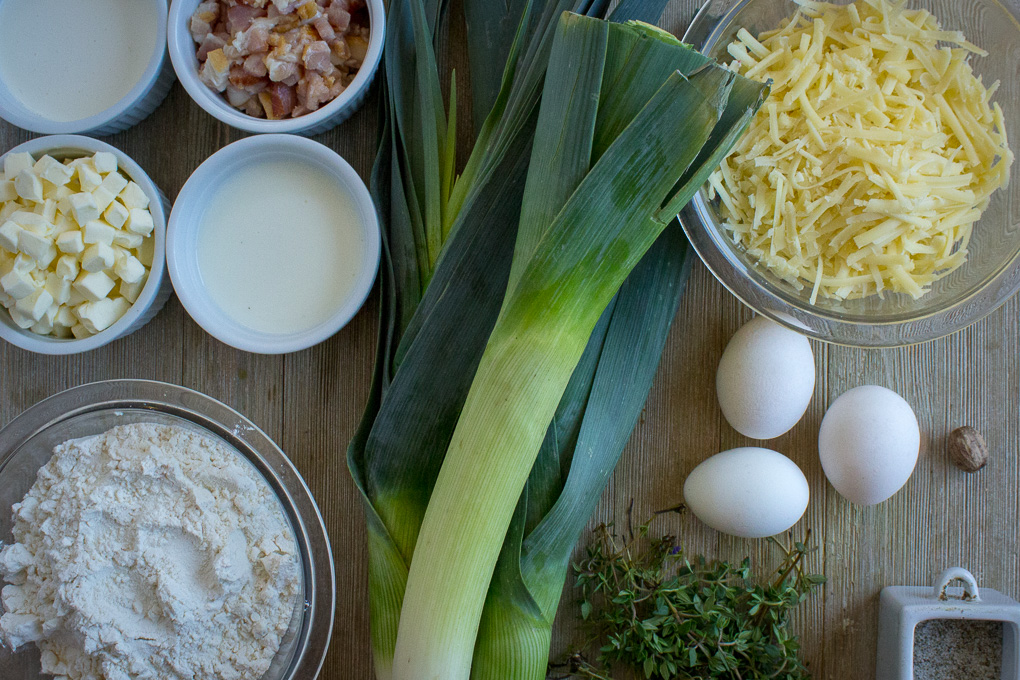 MAKE THE CRUST
First things first: we need to make the crust, which will take a bit of time. This is by far the longest piece of the process, but essential to the dish's success. Where this dish varies from a pie is that the crust MUST be cooked ahead. With a pie, you can get away with not pre-baking the crust, mostly because it's going to be in the oven long enough for the crust to fully cook. This dish needs a firm foundation, and it's not going to cook long enough for the crust to complete without the pre-bake.
A couple other unique things about this crust: first, this recipe differs from many pie crust recipes (including mine in my Cherry-Ginger Pie recipe – check it out!) in that it contains an egg yolk. I went back and forth on whether to add the yolk, but it does a couple of important things. Most importantly, it makes the dough a bit more pliable and forgiving, which is good, because we want this rolled out pretty thinly. It also adds a bit of richness to the dough and helps tenderize it.
The downside? It tends to make the dough a bit more compact, which I noticed while making this recipe. You may notice in the pics below that the crust ended up smaller than the size of the pan after it was pre-baked, which ended up not being a big deal, but it was due to the egg in the dough. Just something to be aware of as you get the crust going.
Secondly, another unique piece is that the dough has fresh herbs in it (thyme), which I only mention because you need to make sure you're just getting the leaves and not the twigs (there's an interesting method for removing the leaves at The Kitchn here). Getting sticks into the dough could make for an undesirable product, so be careful.
Now then, let's get to making the dough. Get the flour, salt, pepper, and thyme leaves into the bowl of a food processor and mix til it's nicely blended. Add the butter and the egg yolk (I know this may feel weird, but just go with it) and pulse in short bursts until the dough has rice-grain texture (probably 8-10 pulses). Slowly add the water 1 tbsp at a time and pulse until the dough just starts to come together. You're looking for a dough that's stable enough to work with but nothing more (i.e., don't add more water than is absolutely necessary). It just needs to hold together enough for you to be able to finish the work.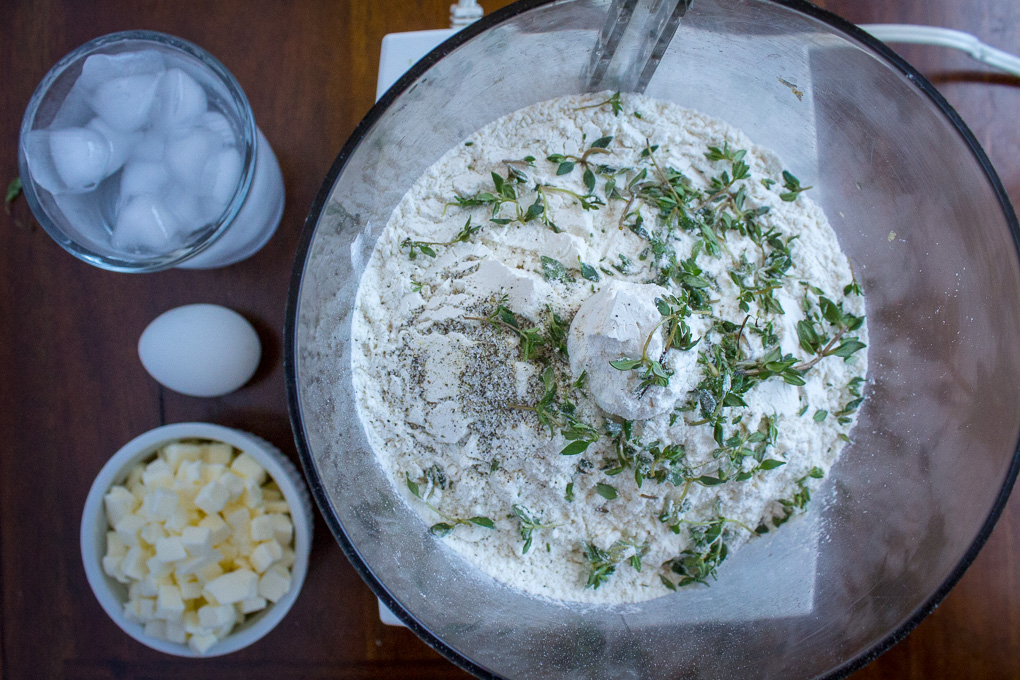 Pour the dough out onto a smooth surface and start to roll it into a ball, corralling all the little pieces and pressing them together. It will probably take you a few minutes to get all the crumbs gathered together but it'll be worth the effort. Resist the temptation to add more ice water, but if it's really not coming together, you can add another tablespoon to help it bind together.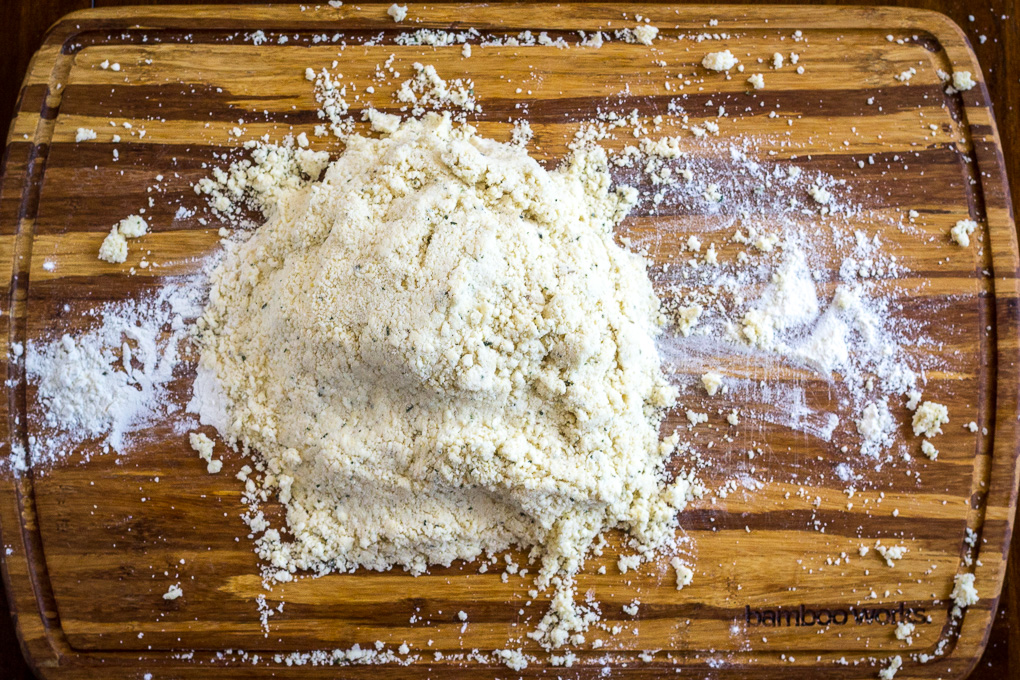 Also, this is not bread. It's not pasta. We don't want to knead the dough, as we're not interested in creating glutens and strengthening the texture. In fact, we're anti-gluten here. We want to bring the dough together just enough to bind, and then leave it alone.
Once you've got it into one large mass, shape it into a disc and envelop in plastic wrap. Throw it in the fridge for about an hour. Clean up your mess while it rests. Seriously, you don't wanna mess with a crusty food processor two hours from now. You have time.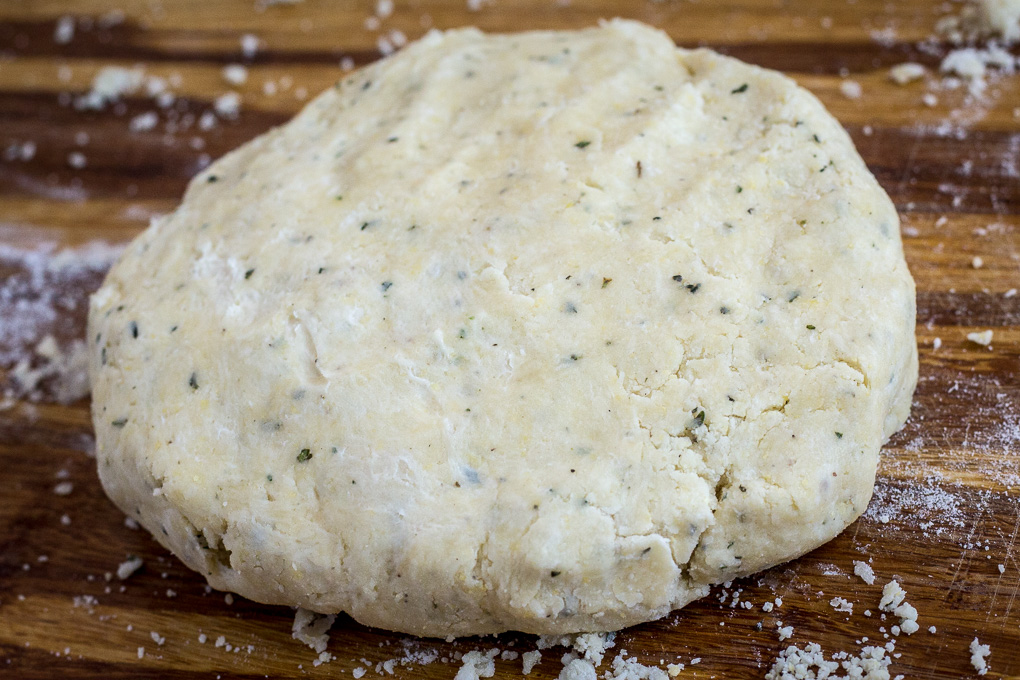 Fast forward an hour (or more; you can realistically make the dough a day or two in advance and be fine), and it's now time to bake. Get your oven cranked up to 400 degrees and pull the disc of dough out of the fridge. Place it on a lightly-floured surface and roll that bad boy out as thin as you can get it. A lot of recipes advise just how thin, but I'm not gonna go there. Like, am I supposed to bake with a ruler next to me to determine if my dough is within the correct 1/8" window? If that's your style, have at it…. But I'm just gonna tell you to roll this disc out til it's a couple inches wider than your tart pan. I used an 11" pan, so I rolled it out to probably about 14".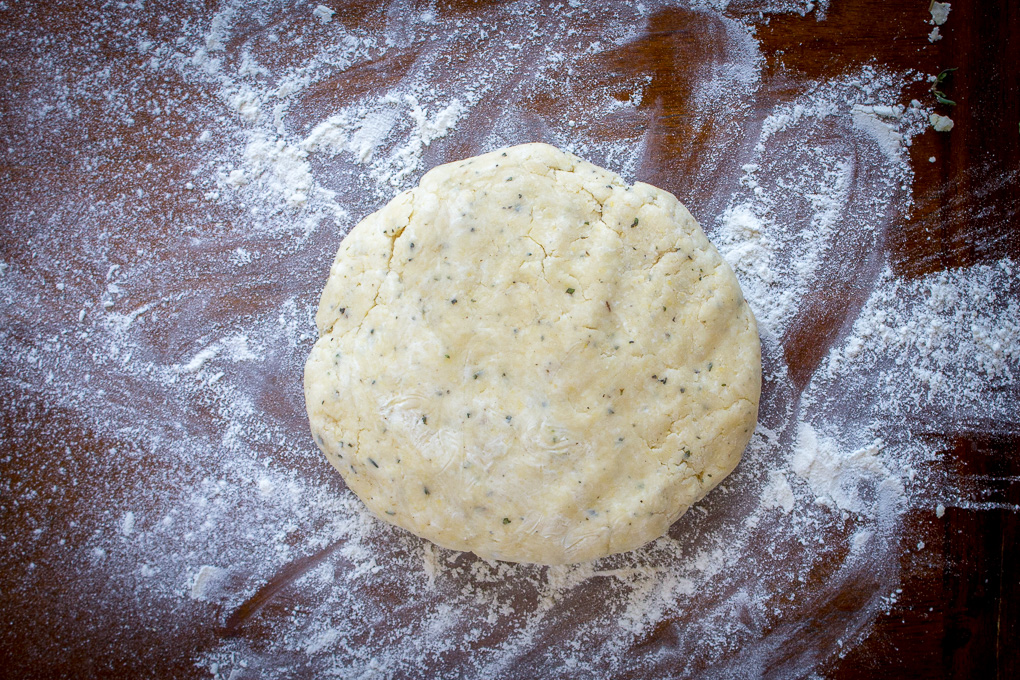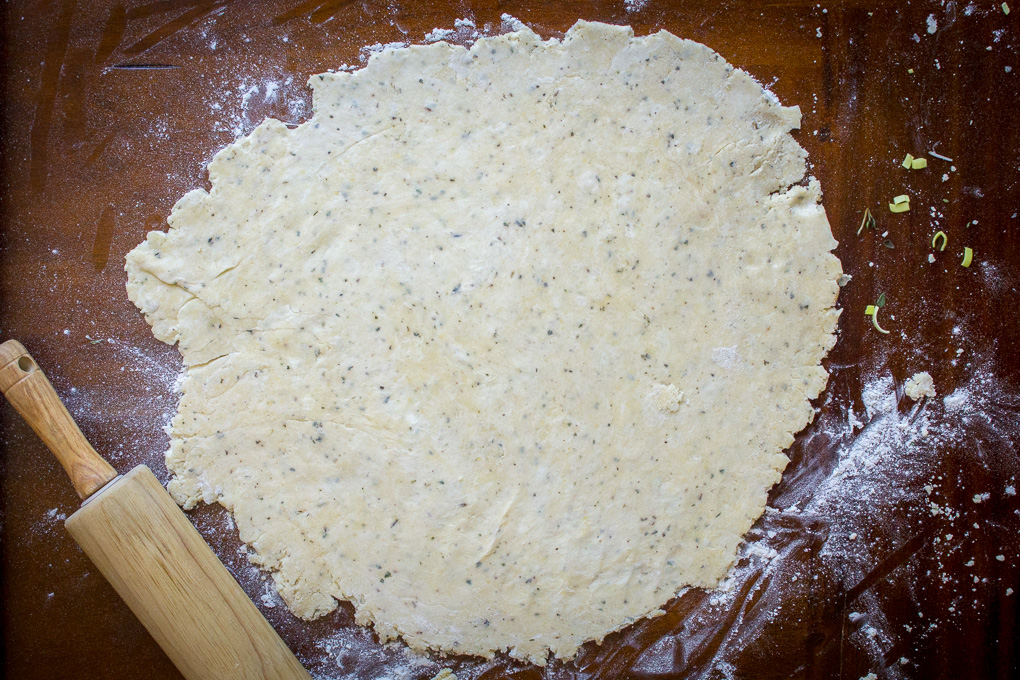 Get that rolled-out crust into your pan, gently press it againt the edges, and trim any excess. Pierce the bottom crust a few times with a fork to let the steam pass through. Now cover the bottom with parchment paper and add some pie weights (if you have them), or a bunch of dried beans. The point is to keep the bottom of the crust pressed down and as even as possible so it doesn't get distorted. We want it to be even when it's time to fill.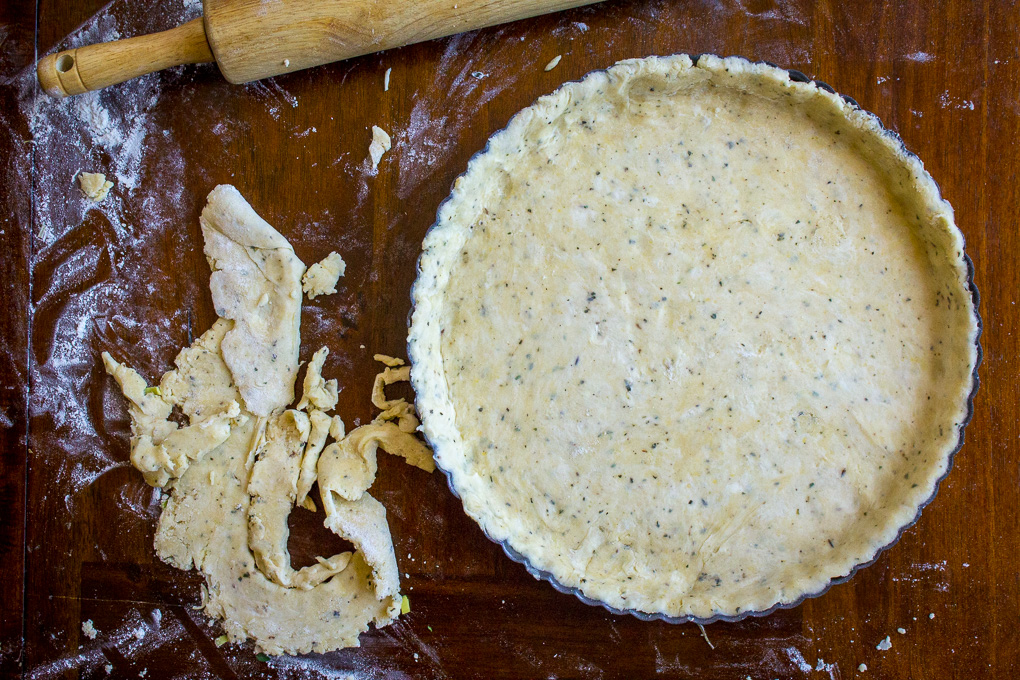 Once your oven is heated, stick the crust in for 20-25 minutes, or until the edges are dry and flaky but not browned. Remove the pie weights (/beans) and parchment, and put the crust back in the over for another 5-10 minutes, until the bottom crust is dry. I'd advise checking it every minute or so after 5 to avoid overcooking it. Take it out of the over and set aside.
MAKE THE FILLING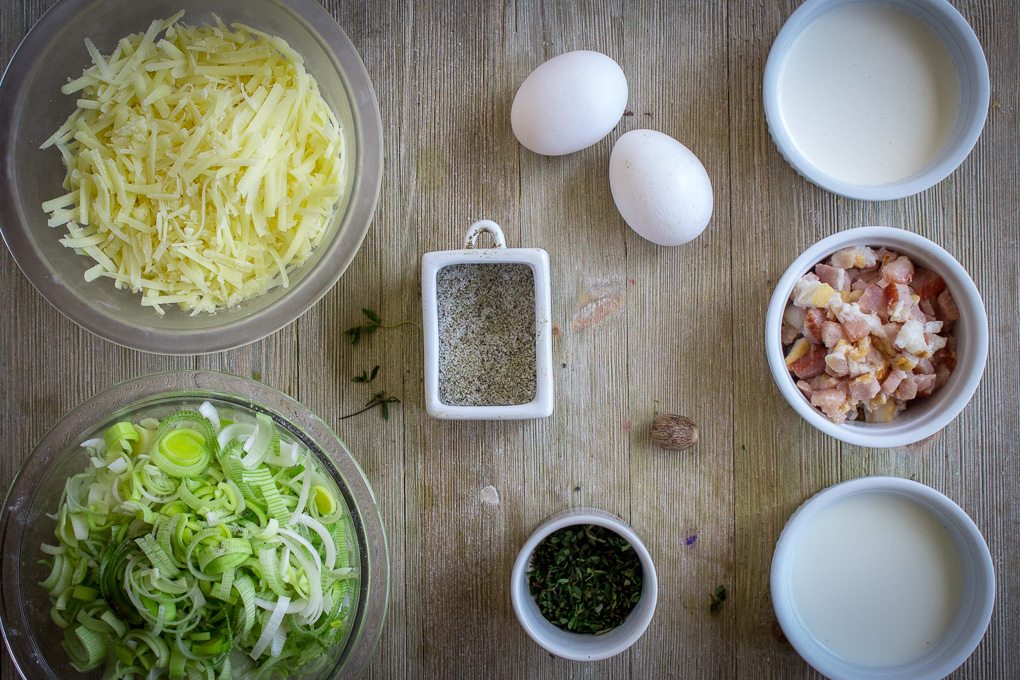 First thing, once the crust is done pre-baking, lower the oven to 375.
Now then, let's start by getting our filling ingredients prepped:
Thinly slice the leeks, keeping only the white and very light green parts.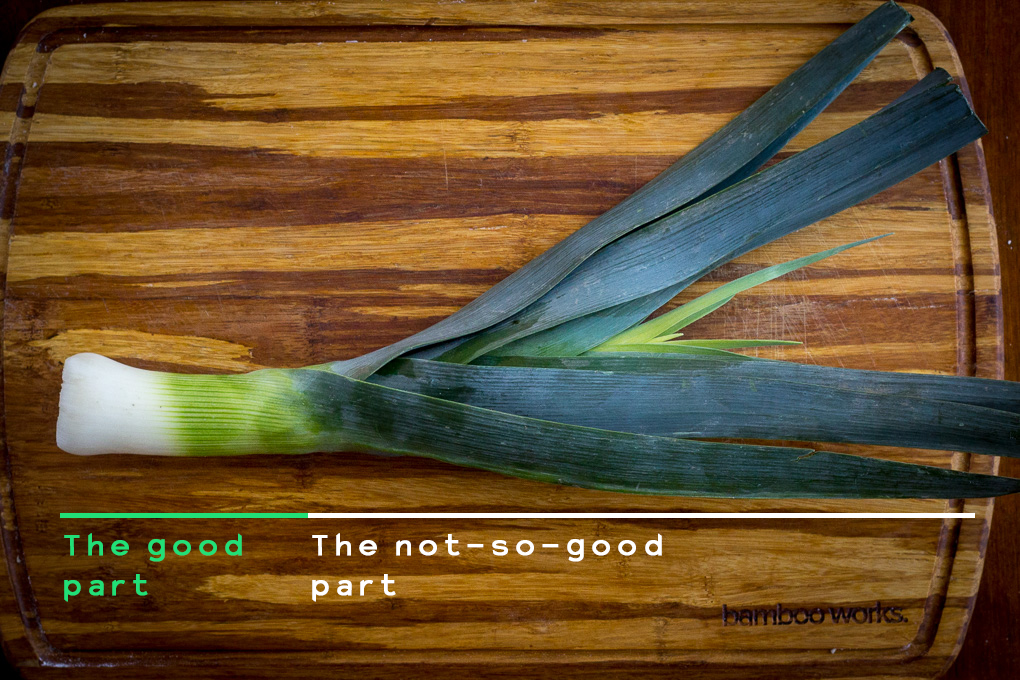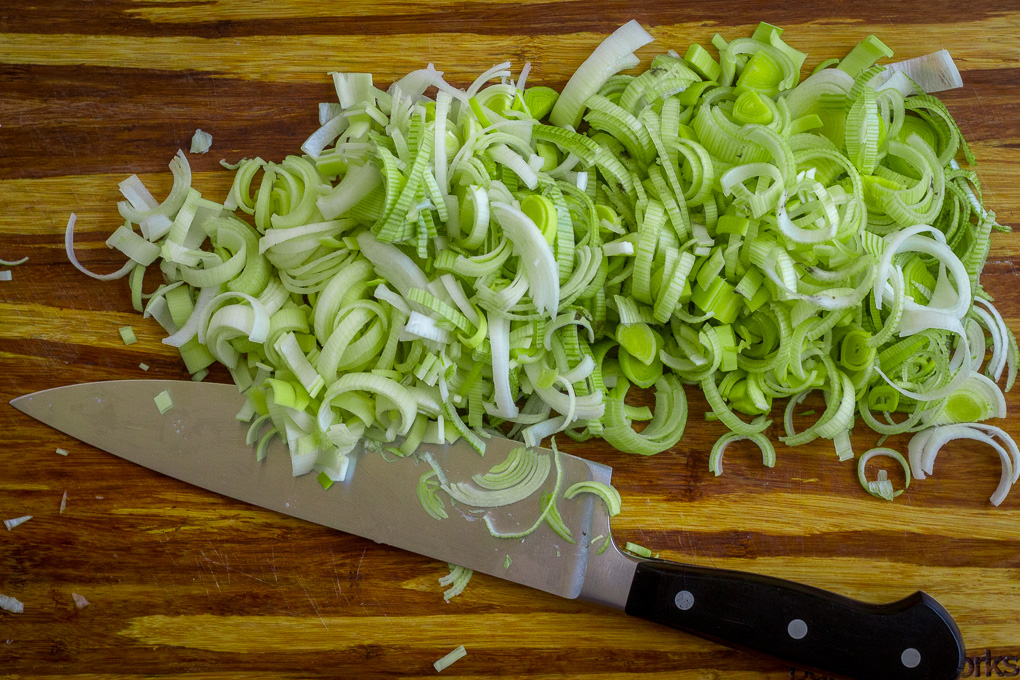 Shred the gruyere. I only had a hunk of cheese that was just over 6 ounces, and that worked out just fine. If you have more, though, and/or you prefer it a bit cheesier, I'd be comfortable moving up to 8 ounces.
Separate 2 tsp of thyme leaves from their stalks.
Gather the bacon, eggs, heavy cream, milk, nutmeg, salt, and pepper.
Now, to the cook. Fry up three slices of bacon in a large skillet over medium-high heat and get it crumbled or chopped into small pieces. I go back and forth between cutting the bacon and then cooking it, or cooking it and then crumbling/cutting it. Do whatever works for you. When done, set the bacon aside but leave the bacon fat in the pan.
Use that porky goodness to lubricate the leeks and thyme. Throw them in the pan and cook for about 5 minutes, or until the leeks are softened but not browned. Remove from heat.
Once everything cools, mix the bacon, leeks, and cheese together, reserving a small handful of the bacon. Add it to the pre-baked tart crust.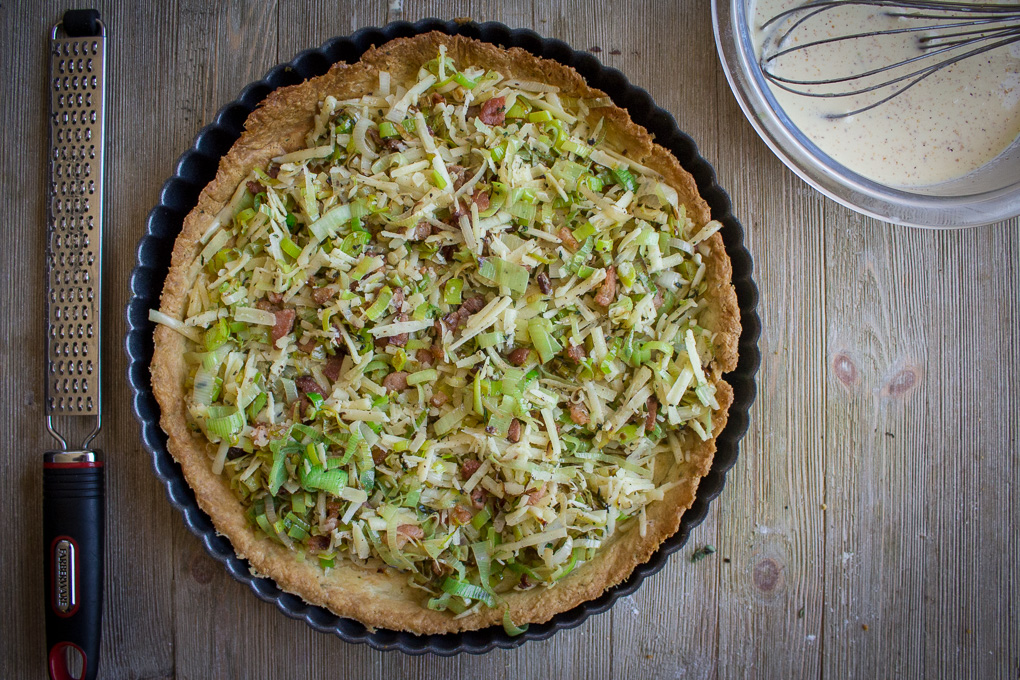 To make the custard, whisk together the eggs, egg yolk, heavy cream, milk, nutmeg, salt, and pepper. Use fresh nutmeg if you have it (just grate a bit over the custard mixture and mix it in). If you don't, the store-bought stuff works fine. Once the custard has come together, carefully pour it over the leek mixture. Keep the level of the filling a safe amount below the top of the crust, keeping in mind that the mixture will expand while it cooks. We want to avoid spillover. Just in case it does spill over, though, place the tart pan on top of a baking sheet, and/or place a large pan or baking sheet on the rack below where you're gonna cook the tart.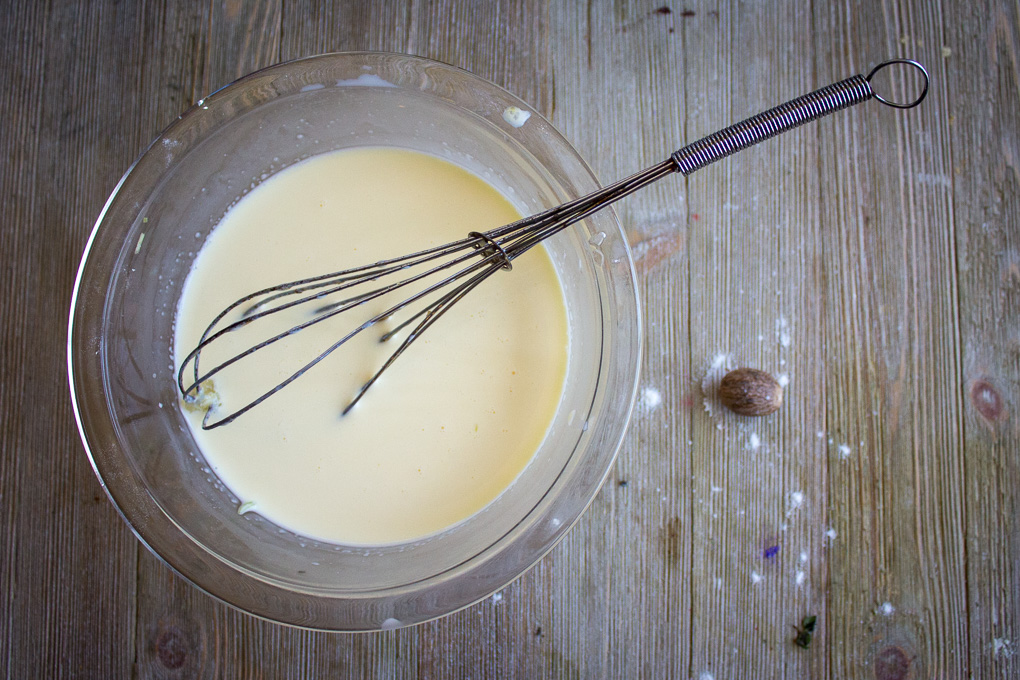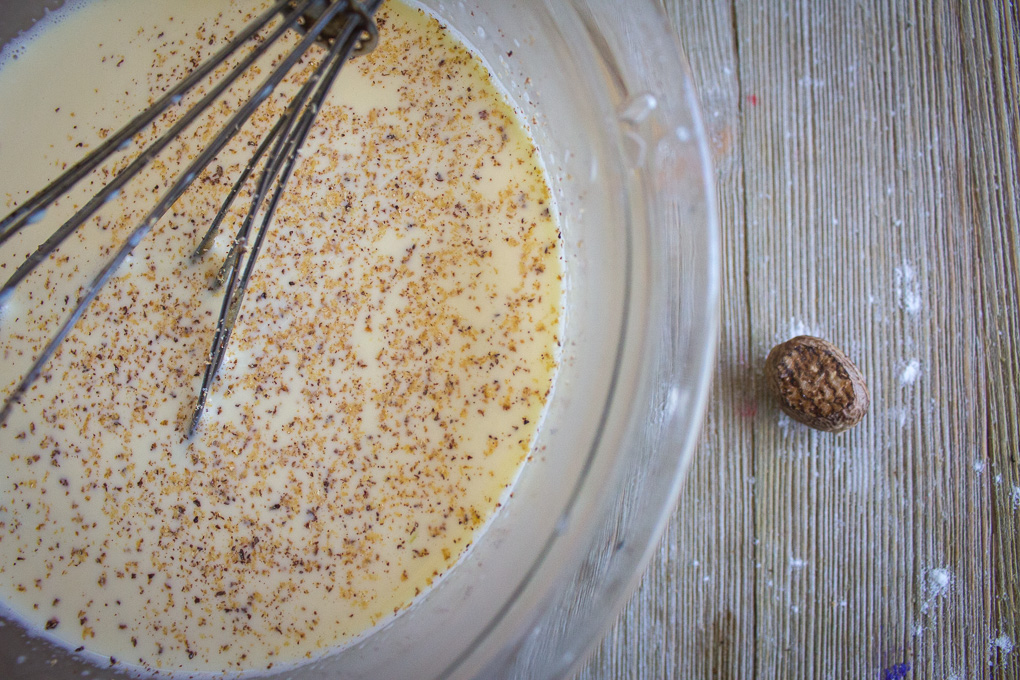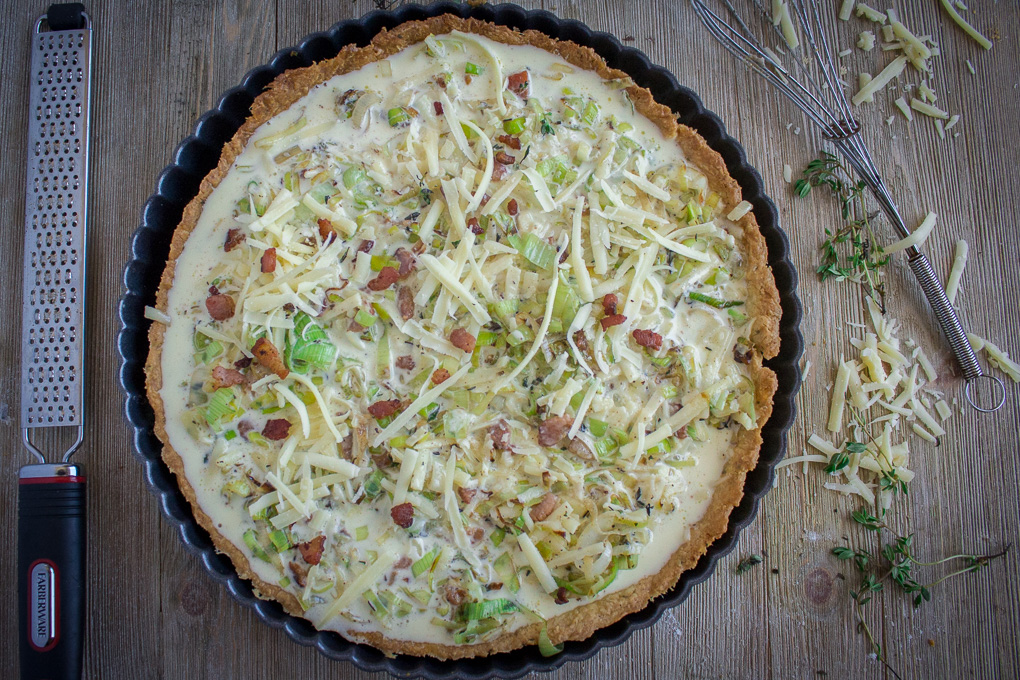 Sprinkle the reserved bacon on top, and place it into the oven. Bake for 30-40 minutes, until the egg is fully cooked. Once it's finished, let it cool for a good 15 minutes before you slice in.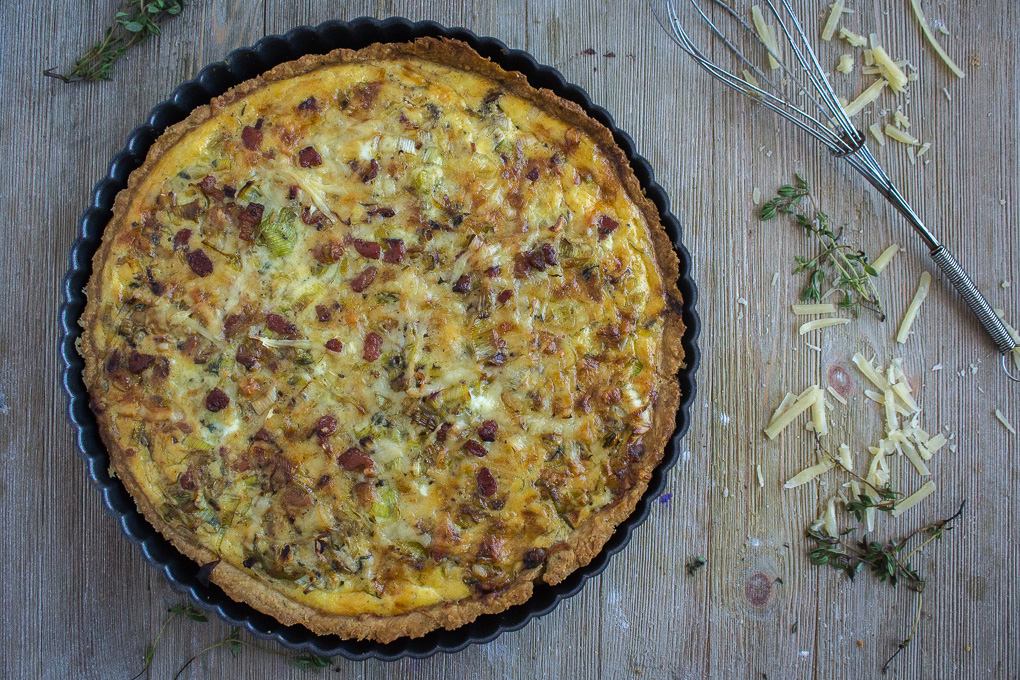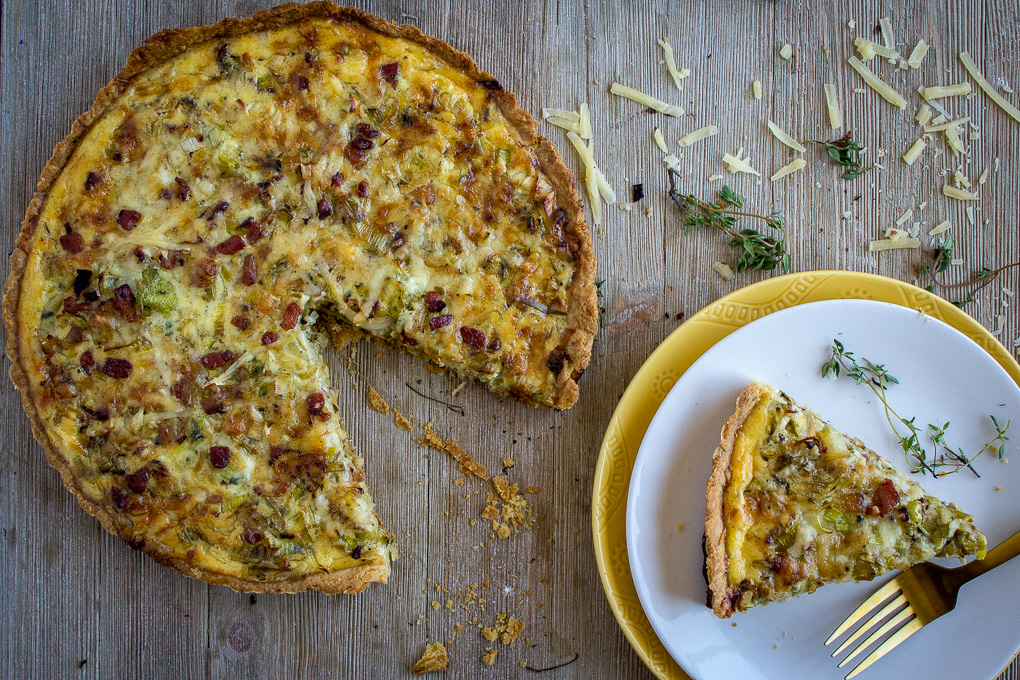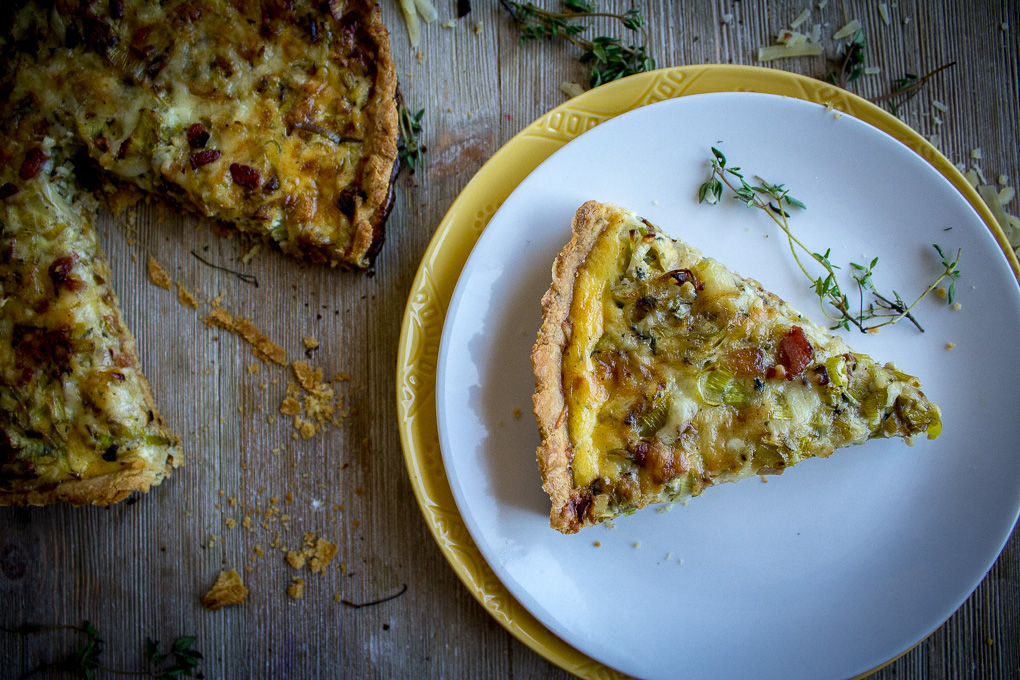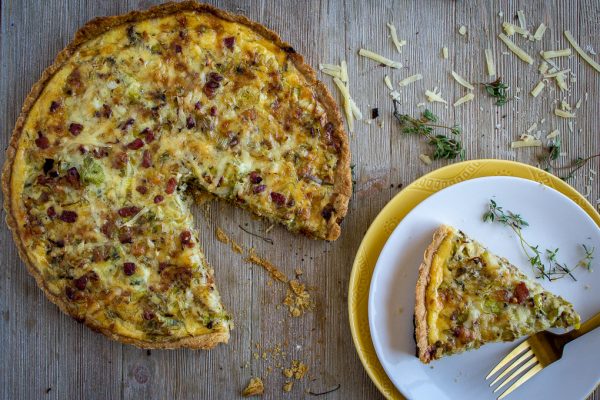 | | |
| --- | --- |
| | |
In the bowl of a food processor, combine flour, salt, pepper, and thyme leaves.

Add egg yolk and chilled butter cubes, and pulse in 1-second bursts until the mixture resembles grains of rice (8-10 pulses).

Add the ice water 1 tbsp at a time and pulse until the mixture just comes together.

Pour the mixture out onto a clean surface and bring together with your hands, adding ice water as necessary. Gather all the crumbs and form into a rough ball. Do not knead or over-mix; only do enough to get the mixture to hold together.

Form the dough into a disc, wrap in plastic, and refrigerate for one hour (or up to 2 days).

After dough has chilled, place on a lightly-floured surface and roll thinly until the disc is 2-3 inches larger than your tart pan. Gently place the dough into the tart pan and press the bottom and sides in, then pierce the bottom a few times with a fork. Cover in parchment paper and fill with pie weights or dried beans.

Bake in 400-degree oven for 20-25 minutes, until the sides are dry and flaky but not browned. Remove the weights and parchment and cook 5-10 more minutes, until the bottom crust is dry.
Reduce the oven heat to 375.

Cook the bacon in a large skillet over medium-high heat and remove. Leave the bacon fat in the pan.

Add leeks and thyme and cook until leeks are soft but not browned, approximately 5 minutes. Remove from heat.

Once the leeks are cooled, add bacon and gruyere and combine. Reserve a small handful of the bacon.

To make the custard, in a separate bowl, combine eggs, egg yolk, milk, cream, nutmeg, and a pinch of salt and pepper. Mix well to combine.
Add the leek-bacon mixture to the prepared crust. Pour the custard over the mixture, making sure not to overfill the pan. Stop when the mixture almost reaches the top, but leave a bit of room for the custard to expand when cooked.

Bake at 375 for 30-40 minutes, until the cheese is melted, the egg is cooked, and the top of the tart is golden brown. Let stand for at least 15 minutes before slicing.