Cinco de Mayo is fast approaching, and you need to celebrate with tacos. It's that simple.
The not-so-simple part? Which tacos do you make? If you're more the carne asada type, please click here so I can get you hooked up with all you need. If you're more of a pork lover, stick around and I'll show you something special.
To be frank from the beginning, the pork is totally my wife's recipe. This one's been around for years now, and it never fails to satisfy. Or impress. So when you make this and all your friends are amazed, remember that it's Mrs. One-Eyed Chef that's responsible. With that out of the way, let's talk about these tacos.
They have everything you want in a taco — they're tender, juicy, spicy, salty, savory…. and hello, they're tacos. This isn't rocket science. You put well-seasoned meat in a warm tortilla and top it with the right fixin's, and you've got yourself a feast.
I'm not quite willing to call the pork carnitas, though the cooking process is similar. Carnitas usually involves adding lard to the cooking pork, and we're not doing that here. Instead, I'm calling this braised pork, but really, semantics aside, it's just meat that tastes really good. That's the real takeaway here.
Enough talking. Let's cook.
Let's start simple by making a quick avocado salsa verde. It'll benefit from being prepared a couple of hours before you eat, so all the flavors have a bit more time to get acquainted. Here's the super-complex procedure:
Put stuff in a blender.
Blend.
Um, yeah, so…. take your 7 ingredients, put them in a blender, and let it do its thing for about 30 seconds. If you haven't worked with tomatillos before, you need to be sure to wash them thoroughly after you remove the husks. There's gonna be a sticky goop on there that you want to get ride of before you introduce it to any other ingredients. Other than that, it's as simple as blending everything together, pouring it into a bowl, and letting it sit while you make the meat.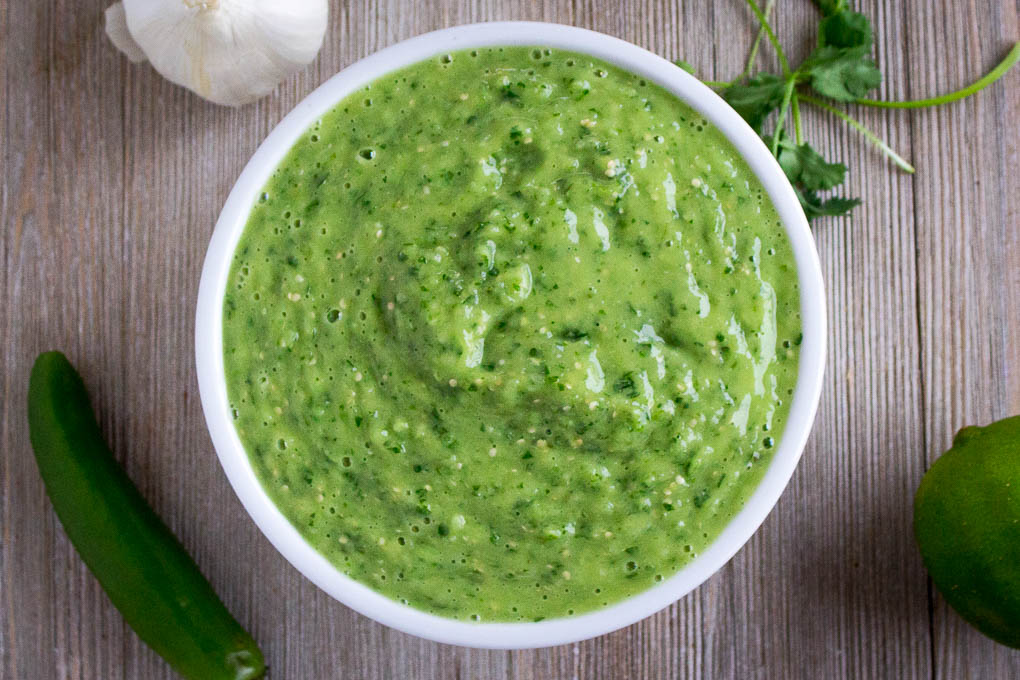 Note: I'm going to describe how to make the pork in a large pot or dutch oven, but I'll admit we've been using the pressure cooker lately to get the job done. If you have a pressure cooker and wanna go that route, follow the same steps but cook for 45 minutes instead of 2 hours.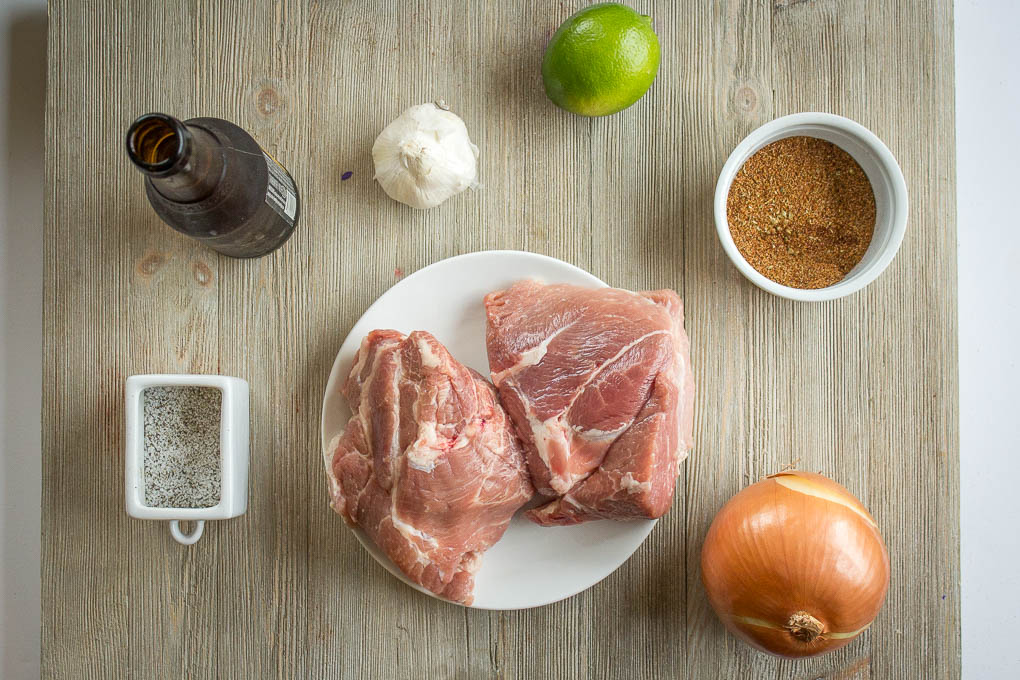 The first step of prep is to trim the excess fat off the meat, then cut it into smaller pieces. I like 3-4 pieces because it cooks a bit quicker, and it makes it easier to fit everything in the pot. Get your meat seasoned up very liberally with salt and pepper, then let it sit for 15 minutes to get to room temperature. At that point, cover it with a good layer of taco seasoning (you can get that recipe here).
Heat your pot or dutch oven to high heat, add a drizzle of oil to the bottom, and when it's just getting to its smoking point, drop in the meat. You should hear a definite sizzle and may need to open a window or turn on the fan, but that effort will be worthwhile. Let that meat sit for 3 minutes without touching it, then flip it over and repeat on the other side. Finally, kiss each of the other sides for 30-60 seconds and remove the meat from the pan, just for now.
To the now-empty pan, add the onion and cook for 2 minutes, stirring constantly (that pan/oil is very hot, so you need to be very careful not to burn the onion). Add the garlic and jalapeno and cook one more minute, then throw the meat back in there. Add the lime juice, tomato paste, and beer, bring it all up to a boil, then reduce the heat to low and simmer, covered, for about 2 hours.
While that cooks, go watch some TV. Better yet, read a book. You've got time.
Now, once the meat is tender (you can even leave it simmering longer if you wish), carefully remove it to a cutting board and let it cool before you handle it. Get yourself two forks (or shredding claws if you have them) and pull the meat apart. It should be tender enough to pull apart easily, but if it's not, put it back into the pot for another few minutes.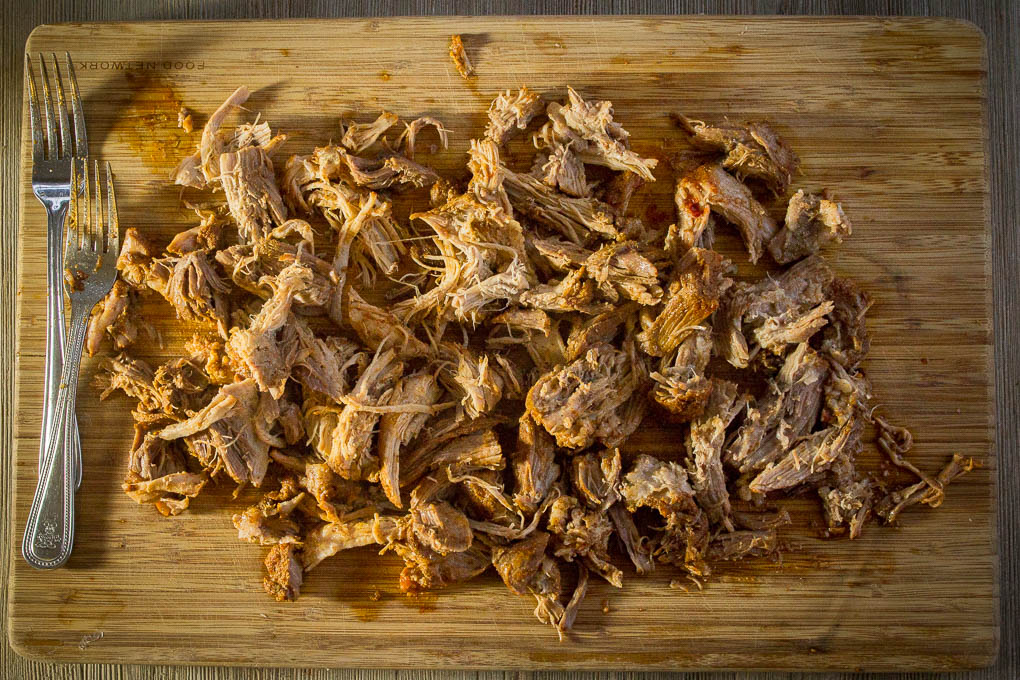 Look at that deliciousness you just created. Warm yourself up some tortillas (if you really wanna be legit and make your own, I can show you how here), put a big pile of pork in there, and cover with the avocado salsa and other toppings of your liking.
Now eat them. Nom nom.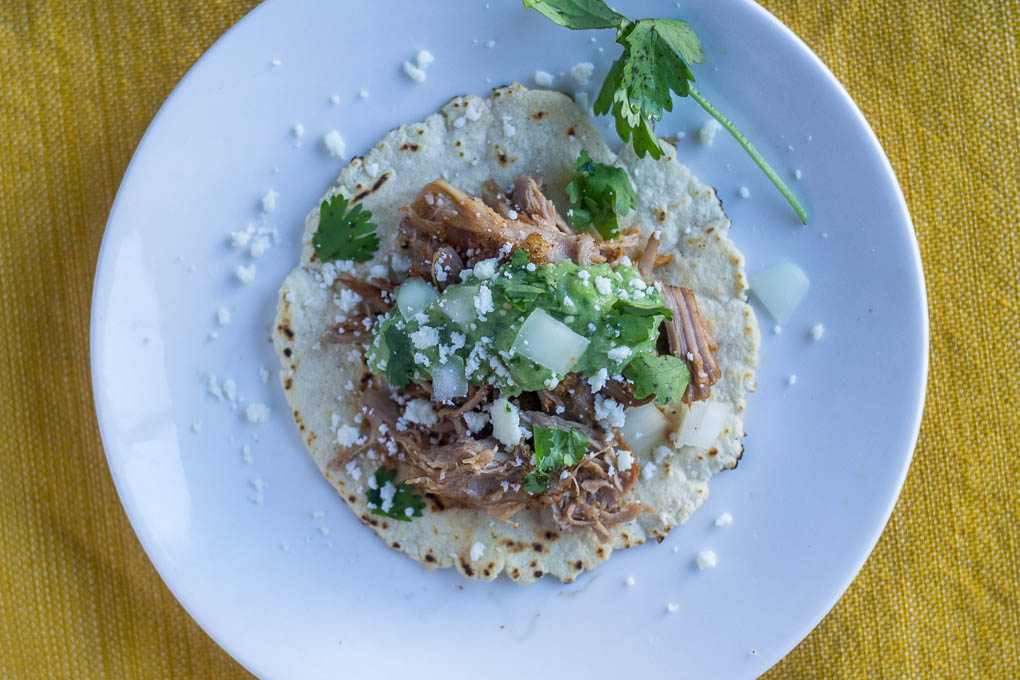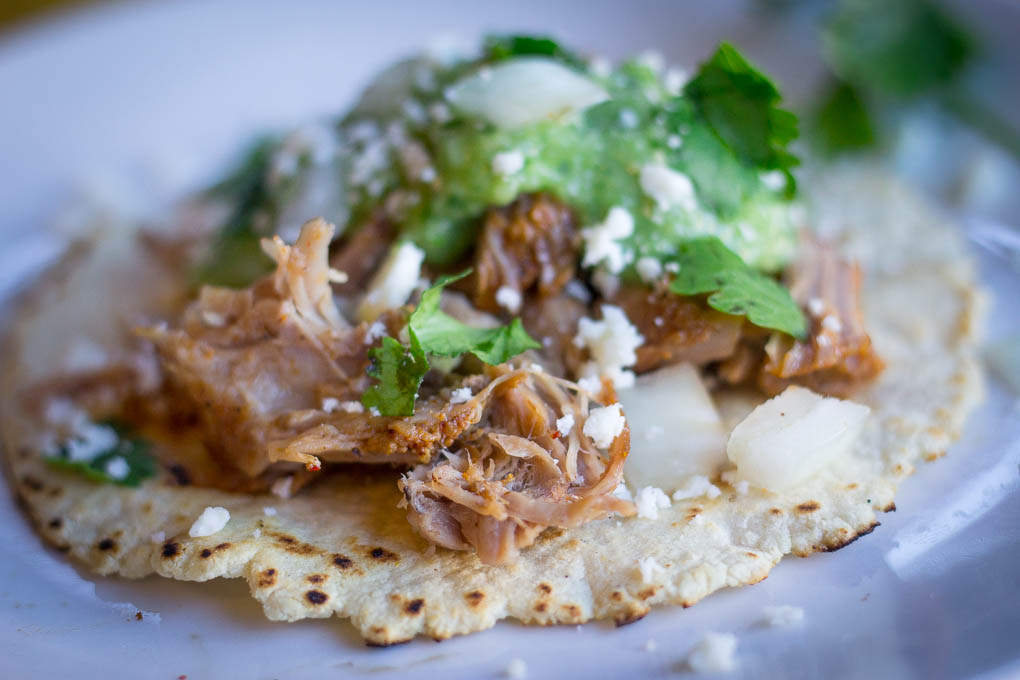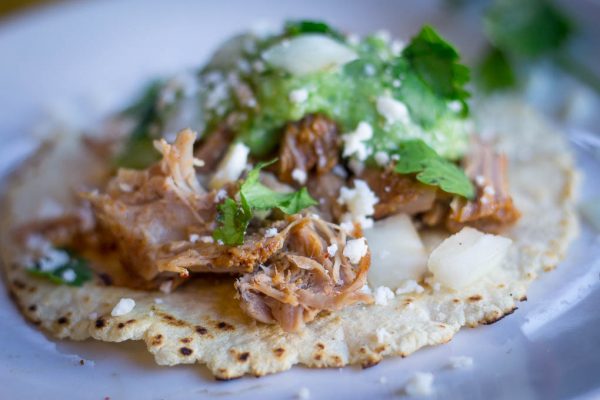 | | |
| --- | --- |
| | |
Blend all ingredients until smooth. Add salt and/or lime juice to taste.
Trim excess fat from the pork and cut into 3-4 smaller pieces. Season liberally with salt and pepper. Let sit at room temperature for 15 minutes, then season with taco seasoning.

Heat a large pot or dutch oven over high heat, Add a drizzle of oil in the bottom of the pan and add pork. Sear for 3 minutes on each side, making sure to sear the sides of the meat as well. Remove the pork pieces from the pot and set aside.

Add onion to the pot, and cook for 2 minutes or until starting to soften. Add garlic and jalapeno, and cook 1 additional minute.

Place the pork back in the pot on top of the onions and garlic. Add the tomato paste, lime juice, and beer. Bring the mixture to a boil, then reduce heat to low and cover. Cook for approximately 2 hours or until the meat is pull-apart tender.

Remove the pork to a cutting board and let sit until cool enough to handle. Shred the pork into small pieces using 2 forks (or shredding claws if you have them).

Portion pork into warm tortillas and top with avocado salsa, cilantro, cotija cheese, chopped onions, and a squeeze of lime.
Taco Seasoning recipe can be found here.