While developing this recipe I learned 3 things: the average goat is 9 carrots tall, you can't eat with your left hand in Morocco, and Bugs Bunny is responsible for uncountable rabbit deaths.
So, yeah, a little background: we were living in the Bay Area about a year ago when we discovered this chain of Mediterranean fast-casual restaurants called Yalla (they didn't pay me to link to them; I just think they're fantastic and you should check it out if you're in the Bay Area. But Yalla, if you're reading, I'm not above some free food if you're into that kinda thing). The food was fantastic, but in particular, I fell in love with this Moroccan carrot salad. It was so different than what you'd think carrots to be: it was bold, full of spice and acid, and helped cool down my mouth after eating various meats spiced with harissa.
By the way, Morocco is a country in Northwestern Africa, and it's a little quirky. A couple things that I learned: it's considered impolite to handle food with your left hand; Morocco is the largest producer and exporter of sardines in the world; and the liver, not the heart, is the symbol for love.
Anyway, once we left the Bay, I decided I needed to try to recreate this magical blend. Searching for copycat recipes, I found nothing; I only learned that Yalla described it as having carrots, cumin, dill, and golden raisins. I knew I had to make my own way, but I think what I came up with is pretty close, and at least equally delicious.
Before we get to that, though, I'll share something fun. Did you know that rabbits don't really like carrots, and that, in fact, if you feed a rabbit nothing but carrots, it will surely die?
Go look it up, I'm serious. I'll wait.
There's no history of rabbits eating carrots until the 1940s, when Bugs Bunny showed up. The story behind the story is that the creators of Bugs modeled his behavior after a Clark Gable character from the movie It Happened One Night, where he casually munches on a carrot while leaning up against a fence. The cartoonists thought this was like, the coolest thing ever, so they created a Gable-inspired rabbit with a snappy catchphrase, and millions of rabbits-to-be were destined to be pumped full of sugary treats that their ancestors had never even considered to be edible. So Chuck Jones and Friz Freleng, the blood is on your hands.
One more thing….. if you're on Twitter and you're not following @realcarrotfacts, you're doing it wrong. Here are a few of my favorites:
the average goat is 9 carrots tall if you measure goats in carrots

— Carrot Facts (@RealCarrotFacts) October 7, 2015
You can hide a baby carrot in your mouth and no one usully notice it unless you talk or sneze

— Carrot Facts (@RealCarrotFacts) January 5, 2015
Most carrots like Ace Vetuta pet detector because it stars jim Carrot "alllrighty now"

— Carrot Facts (@RealCarrotFacts) May 16, 2015
Fascinating stuff, right? Alright, one more.
HISTROY IN PICTURES: gumby eating his first carot pic.twitter.com/8BtPGlJrJD

— Carrot Facts (@RealCarrotFacts) February 4, 2016
Now, to a treat Gandhi, Bugs, and left-handed Moroccans would all enjoy. It's Mediterranean-inspired, so it's got a good mix of spice and herby, vinegarrey, olive-oily goodness. And it's vegan. And it takes like 15 minutes to make. And it's delicious.
The one thing I'll advise up front: make this AT LEAST AN HOUR ahead of when you want to serve it, preferably several hours (or overnight). The flavors need some time to get to know one another, and the texture of the carrots improves as they sit in the vinegar and begin to partially pickle.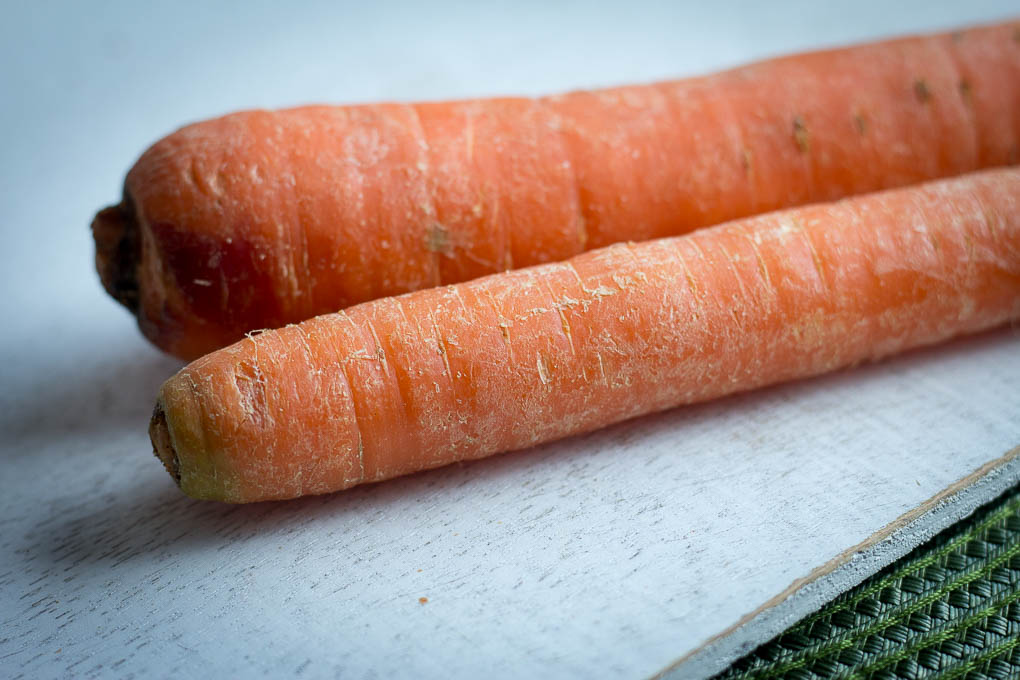 The process itself is easy. Get your carrots shredded (the preferred method), finely chopped into matchstick shapes (the less-preferred-but-still-acceptable method), or buy a bag of pre-shredded carrots (the I'll-look-the-other-way-this-time-because-I've-done-it-too method). Chop up the dill finely. That's really all the prep.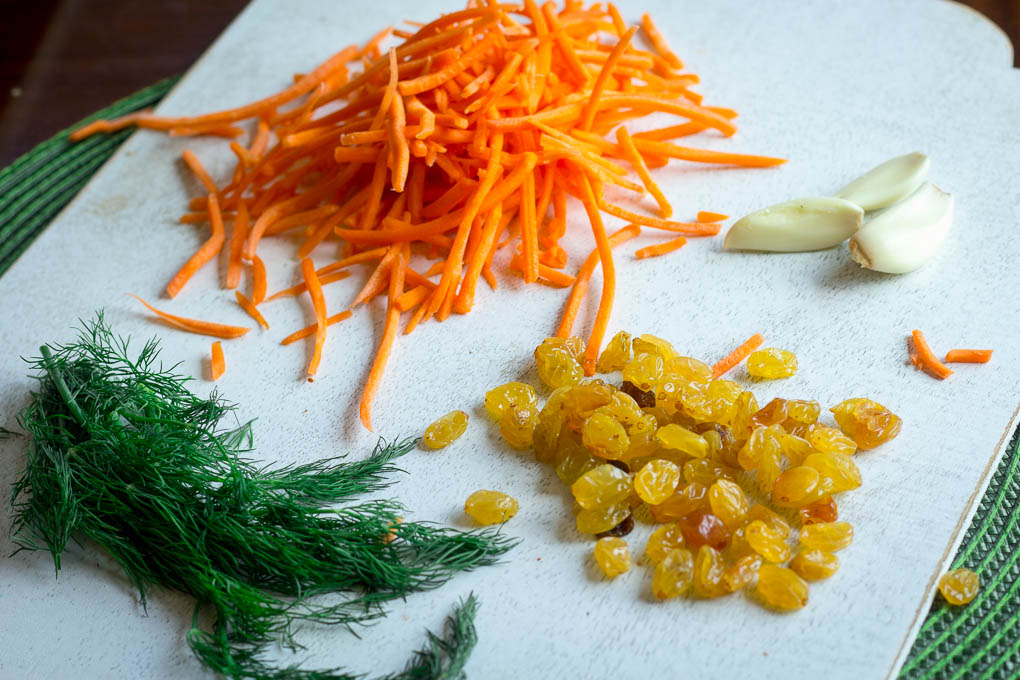 You may notice that my picture has garlic cloves in it, too. Ignore those. Some of my variations of this recipe, while still in development, included some very finely minced garlic, but ultimately it became unnecessary.  Yes, I could have taken a new picture, but I also could just politely ask you to ignore it and save myself some time. So yeah, that.
Ok, get the carrots and golden raisins (seriously, buy golden. You could use regular raisins, but try your best not to) mixed together in a big bowl. Next, mix up the rest of the ingredients, minus the dill, really well to make the vinaigrette for this salad. Whisk it so that all the dry stuff (sugar, salt, pepper, cumin) is completely incorporated. This thing can get grainy really quickly if you don't make the effort.
Add the dill, and toss the whole thing well to combine. Let it sit in the fridge for a bit, then mix it up and serve. Eat with your right hand.
Oh yeah, and pair it with some gyros for a real extraordinary night.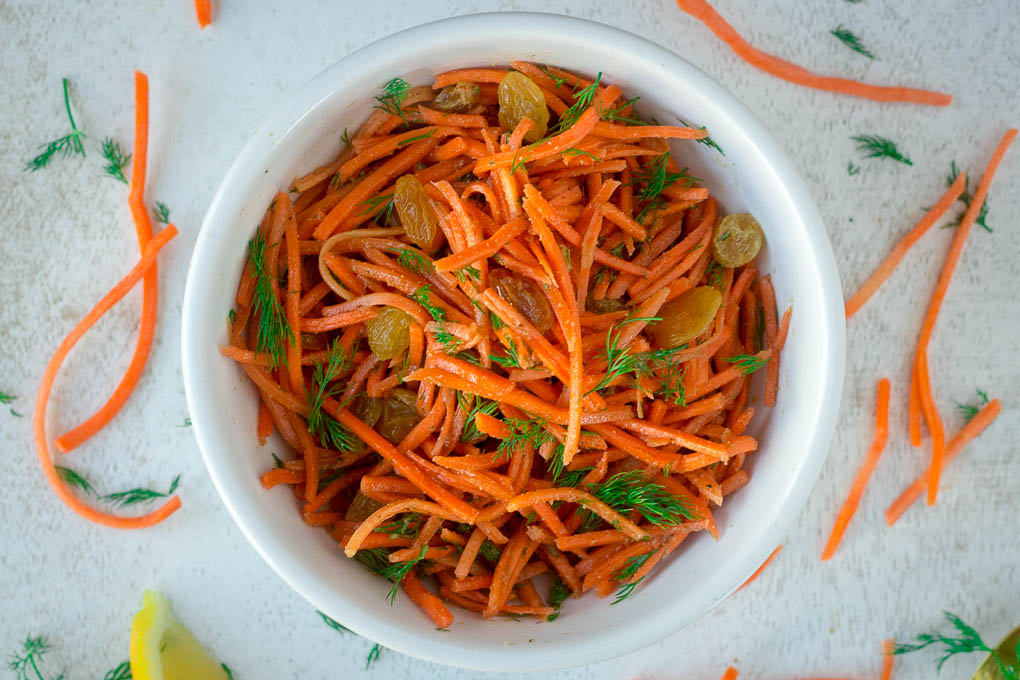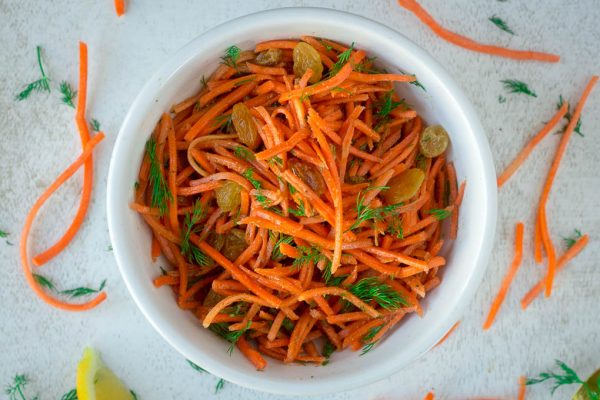 | | |
| --- | --- |
| Servings | servings. Or six. I don't know, how much do you like carrots? |
| | |
| --- | --- |
| Servings | servings. Or six. I don't know, how much do you like carrots? |
Toss carrots and golden raisins to combine.

Whisk together olive oil, red wine vinegar, lemon juice, sugar, salt, pepper, mustard, and cumin until very well combined. Add to carrot mixture and toss to combine.

Add fresh dill and mix until well distributed.

Refrigerate for at least 1 hour and stir well before serving.